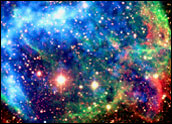 Without breaking the bank, Microsoft's research division and the University of Washington astronomy department have teamed up to bring new light to an old technology: the planetarium.
Nearly three thousand planetariums dot the U.S. terrestrial landscape, featuring celestial shows about stars, planets, solar systems and galaxies, often projected onto an overhead dome-shaped screen by a technology that hasn't changed much since it was introduced in 1923: the "star ball."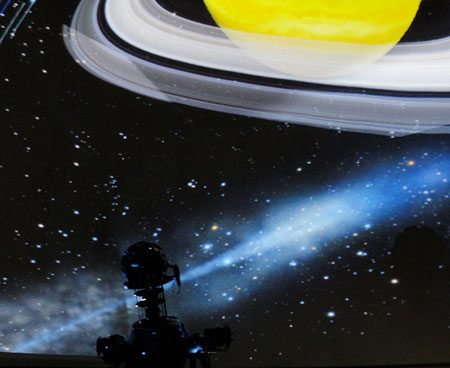 The starball projector, a stalwart of the planetarium for over 15 years, stands against a background of the Milky Way and Saturn projected by the digital system. (Photo Credit: Jake VanderPlas)
Inexpensively supplementing star balls with software and digital projectors — the UW/Microsoft team's project — brings to the rounded screen "a rich and truly interactive experience," team member Jonathan Fay explained at the 2010 Astronomical Society of the Pacific (ASP) annual meeting in Boulder, Colo. Fay codesigned WorldWide Telescope, a free Microsoft program that brings the galaxy down to Earth on personal computers.
At the ASP conference, the UW/Microsoft team presented a novel way to convert their old-school planetarium from analog to digital on a remarkably old-time budget: US$38,000.
That figure includes WorldWide Telescope; four Sharp XV-Z15000 digital light processing (DLP) projectors; a Navitar Screenstar conversion lens; an Nvidia GTX275 video card; cables, switches, and seven computers running Windows 7 with 1TB hard drives and 6GB RAM. The team also kept their existing star ball.
"Planetariums with image resolution of a few million pixels typically cost several hundred thousand dollars," said Andrew Connolly, team member and University of Washington associate professor of astronomy.
"Our system is about 8 million pixels, but at a fraction of the cost," he told TechNewsWorld.
"Their cost is much less than most commercially available systems," Mark Sonntag, director of the Angelo State University (ASU) Planetarium, told TechNewsWorld.
Heavenly Technology
Coupled with the DLP projectors, WorldWide Telescope can project intricate stellar maps such as the European Space Agency's 118,000-star "Hipparcos Catalogue" and the 930,000 galaxy Sloan Digital Sky Survey with 3D-style interactivity.
"With the click of a mouse, or twist of a joy stick or Xbox controller, the presenter or student can fly through the universe; look at planets orbit the Sun from Pluto; see how the night sky appears from a distant star," explained UW/Microsoft team members Larry Carey and Conor Sayres in a presentation to the ASP conference. "This is a huge visualization upgrade from a star-ball."
WWT can also access research-grade astronomical data; import so-called "FITS files" — digital astronomical files that combine images with information in one to three dimensions; and present guided tours from Chicago's Adler Planetarium, the Smithsonian Center for Astrophysics, and the Space Telescope Science Institute.
"We use WWT like using it on a home computer," Connolly explained. "But instead of being at a computer monitor, an audience is sitting in an 8 meter diameter planetarium, with WWT projected onto a dome screen."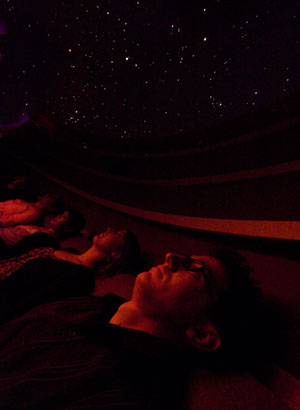 The new digital planetarium in the Department of Astronomy at the University of Washington, built in collaboration with Microsoft's World Wide Telescope, provides shows for more than 2,000 students and members of the public each year.(Photo Credit: Doug Plummer)
Test-run reviews have been positive, team member Phil Rosenfield, a University of Washington astronomy graduate student, explained. "From the general public and high school students, we've received excitement," he told TechNewsWorld.
Planetarium audiences are surprised they can download WWT for free and upload their own tours of the universe, said Rosenfield, who added that he likes the system's ease of use.
"When someone asked me what a planetary nebula was, I typed 'planetary nebula' into the WWT search bar and was able to project several Hubble Space Telescope images of planetary nebulae to illustrate my explanation," Rosenfield said. He was also pleased the UW conversion kept the existing star ball, rather than swapping it out for an entirely new system.
"The star-ball is an amazing machine, and still the best way to mimic starlight," Rosenfield said. "But if you want to talk about star formation histories, or evidence for an expanding universe, you need something more than a star-ball, or you'll just be talking."
Cost-Conscious Stargazing
"Digital planetariums are now and will continue dominating new planetarium construction and old planetarium renovations," said Sonntag, whose 25-year-old ASU Planetarium went digital with a SciDome HD projection system powered by Starry Night software.
Western Washington University (WWU) planetarium directors recently replaced a Spitz A2 star ball with a Konica Mediaglobe digital projector.
"We spent a lot of time making the decision to go digital and consider our upgrade a major success," WWU planetarium manager Brad Snowder told TechNewsWorld. "The old system was truly an antique and is now the property of a museum."
Despite the benefits of digital projection, every planetarium doesn't use digital projectors for the same reason every movie theater doesn't use digital projectors: cost, a "particular" issue for smaller planetariums at science centers and colleges, UW's Connolly said.
Just to start a digital projection conversion, the Jacksonville (Fla.) Museum of Science and History received a $465,000 gift to purchase a Konica Minolta Super MediaGlobe II digital projector and renovate its Alexander Brest Space Theater.
Before they planned around it, UW astronomers were facing another six-figure cost estimate: $127,432.81.
Though their conversion cost may have been ultra low, until he can judge the brightness, contrast, and resolution of the redone UW planetarium's projected images, WWU's Snowder is reserving judgment. But he has "no doubt they have assembled a competent team of electronic and software engineers. They are a resourceful institution, to say the least."