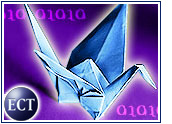 With half a billion copies of its Reader document software in use, Adobe has shown its strength in the digital dimension.
But the company now is committing more resources to develop software for government agencies, businesses and other organizations that are forced — through regulation, mandate or competition — to maintain use of hard-copy paper documents.
Following the release of its new forms-processing software that uses 2D barcode technology, Adobe senior product manager Geoff Baum talked with TechNewsWorld about what the technology will mean for the future of paper forms in the digital world.
TechNewsWorld: You've mentioned the usefulness of this technology for government agencies, such as the IRS. What industries and businesses are most excited about this kind of bar-code tracking technology?
Geoff Baum: We've sensed excitement in a number of industries, including government, financial services, insurance and education. Any industry that processes large volumes of paper forms will have a great affinity for this technology.
TNW: What drove the creation of this technology?
Baum: In talking with enterprise and government customers, we continually received feedback that organizations needed a better and more efficient way to process paper forms as well as a means to unify or combine electronic and paper-based forms processes.
TNW: How did Adobe come up with the solution?
Baum: When we thought about how to help solve the paper forms problem, we realized the value of our Intelligent Document Platform and installed base of the free Adobe Reader — over 500 million copies distributed worldwide.
We realized we could combine our technology with proven, industry-standard 2D barcode technology in an innovative way that would enable organizations to efficiently process large volumes of fill-and-print paper forms.
TNW: What is the biggest challenge for companies and other organizations that must provide and receive paper forms — regulatory, equal-access mandates or legacy system challenges?
Baum: These are all challenges. Regulatory and equal-access mandates force organizations to support paper, whether they're inclined to or not. For many organizations, these are unavoidable issues. Even if they prefer a completely electronic system, they can't make that transition.
Legacy systems, on the other hand, are within the control of the organization but very difficult to modernize. In the short term, the legacy system issue may, in fact, be the biggest challenge. The organization has the power to change their IT infrastructure but often can't due to resource issues and system complexity.
TNW: Can you say a few things about the typical technical issues with forms processing and legacy systems?
Baum: Forms processing often lends itself to complex IT infrastructure. Many organizations are forced to support two parallel forms-processing systems: one to support paper-based forms and another to support e-forms. Paper forms-processing systems — in many cases run by an organization's operations group — are expensive to run and error-prone.
There is the additional issue of integrating the data from a paper forms-processing system with the company's electronic forms-processing system. Since they are completely separate systems, it's not always easy to support the data integration as well as the form authoring, management and publishing.
These are only a few of the issues that lead to overly complex and costly IT infrastructure.
TNW: Do you expect this 2D barcode technology to become as widespread and ubiquitous as Adobe Acrobat, PDF and Reader?
Baum: We'll be supporting the 2D barcode technology in Adobe Reader, so, in effect, it will be everywhere Adobe Reader will be. We believe this is a bridge technology that will help organizations transition smoothly to a fully electronic forms or document process. Adobe is a leader in electronic forms and intelligent document technology.
Our ultimate goal is to get everyone using e-forms systems. This 2D barcode-enabled paper forms technology will help organizations support paper and digital forms processes in a unified environment. This is important because it helps organizations not only handle paper more efficiently, but also helps them simplify their overall forms-processing infrastructure.
TNW: How many pilot testers do you have for the 2D barcode technology, and when will it be available to government agencies and businesses?
Baum: We're starting a pilot with the Internal Revenue Service in a matter of days. The IRS will be using the technology to barcode-enable three Schedule K-1 tax forms for tax year 2003. These forms will be delivered via the IRS 2003 Tax Products CD Final Release to approximately 120,000 professional tax preparers.
The forms also will be available to the public on the irs.gov Web site shortly. In addition, we have a number of other pilots scheduled with both government agencies and financial services firms, but can't discuss these in further detail at this time.
TNW: Do you see this as a new life for barcode technology that is supposed to be replaced by RFID in the inventory-shipping realm?
Baum: 2D barcodes will be used in a variety of applications. RFID isn't going to replace 2D barcodes for paper-based applications. You're starting to see 2D barcodes in more and more places.
For example, the next time you fly, check your boarding pass. Look at your overnight express shipping label. Even state tax agencies and now the IRS are using them. Barcodes aren't going away anytime soon.
TNW: Anything else you would like to add?
Baum: One of the key benefits of our solution is that it supports both paper and electronic forms processing in one environment. The form data, whether the form is submitted by paper or digitally, will be extracted by our system in the exact same format. So the organization only has to integrate their back-end processing system with our forms technology once.
In addition, with our solution, one fillable PDF document and one Adobe Reader client can be used for either paper or electronic submission. It's really a tremendous step forward for our customers.