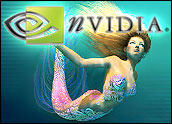 Introducing a new, more sophisticated architecture intended to spiff up and speed up high-end PC gaming, Nvidia rolled out its latest graphics processing unit (GPU) and a new media communications processor (MCP) for Intel multi-core processors this week.
Nividia said its GeForce 8800 GPU and nForce 680i SLI MCP would bring high-resolution and high-definition graphics to both PC gaming builders and users. The move, which also anticipates the newest developments and Windows platforms from Microsoft, comes as Nvidia and Intel get closer following Advanced Micro Devices' acquisition of graphics chip player ATI.
Graphics Chip Change
The new GeForce 8800 from Nvidia represents a significant change of architecture for the graphics processing of gaming applications, IC Insights Senior Analyst Rob Lineback told TechNewsWorld.
"This clearly is a significant shift," he said, indicating the new architecture will allow the Nvidia GPU to take on all graphics processing tasks.
Lineback remarked on the leap in number of transistors with the GeForce 8800, which packs an "impressive" 681 million transistors onto the GPU.
"That is quite a bit more than anyone has had," Lineback said, referring to a near doubling of the next highest transistor count GPU from ATI.
DirectX Path
Nvidia touted its new graphics technology as the first to support DirectX 10, the programming interface for Microsoft's forthcoming Vista operating system.
The company said a new, unified shader architecture with 128 parallel, 1.35 Gigahertz stream processors would boost gaming performance. Other new technology in the Nvidia GPU includes improved physics processing for better effects and realism, and simultaneous 16x anti-aliasing and 128-bit High Dynamic Range, which improves image quality.
"Our announcement today is the culmination of four years of research and development and represents the biggest technological leap we have ever made," said Nvidia President and CEO Jen-Hsun Huang. "Gamers are going to be blown away."
Changing the Equation
The DirectX 10 support built into the new GeForce 8800 marks a significantly different approach in which a "unified shader model" boosts efficiency, Mercury Research President Dean McCarron told TechNewsWorld.
"That sort of changes the equation," he said.
McCarron said the technology will deliver immediate improvements for applications that previously experienced bottlenecks due to the division of labor for shading and graphics processing.
For developers, the new Nvidia technology and DirectX 10 support will bring more flexibility, fluidity and scalability, according to McCarron.
Market March
With its support for DirectX 10 and Vista, a move expected from AMD's ATI as well, Nvidia is setting the foundation for high-definition graphics, as well as grabbing the current bragging rights for GPUs, Lineback said.
"They had to have that kind of capability for the next generation of computers and systems," he said. "This is the kind of capability that's going to be required."
Lineback indicated that while PC gaming enthusiasts and other users will get "a great deal more performance" out of the new architecture, the industry will also be watching to see if Nvidia and ATI can bring their latest graphics technology to market without too many bugs, particularly at the rate companies are announcing new technologies.
"Things are happening so quickly," Lineback added.