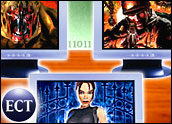 With more and more young people turning to video games for entertainment instead of watching television, advertisers are looking for creative ways to reach out to this growing demographic. One of the newest techniques is to place advertisements directly into video games — a practice that's rare right now, but could become common in the not-too-distant future.
Earlier this year, Activision and Nielsen Entertainment released the results of a study that surveyed nearly one thousand boys and young men between the ages of eight and 34 from a sample of Nielsen TV households. The study asked participants about their video game playing and television viewing habits. Three-quarters of respondents owned a video game system, the study found.
The average male plays video games about five times a week, according to the study, and spends at least 30 minutes playing at each sitting. Nearly half spend at least an hour at each sitting. Results revealed that one-quarter of active gamers recall ads from the last game they played. One-third said ads in games help them to decide which products to buy.
Race is On
Though the technique is in an early stage and still needs some refining, a number of big brand names are racing to have their products placed in video games, according to Josh Taekman, president of Buzztone, a marketing agency headquartered in Los Angeles.
Taekman, who works out of the company's New York offices, cited McDonalds, Coke, Pepsi, Nestle and Volvo. "It is only the tip of the iceberg," he said. "This will be an explosive media and branded content play. This is the future of product integration and partnership.
"It seems to be on the same path as the theatrical world with major tie-ins, media supported promotions, in store activities and fully integrated campaigns. Advertisers are fairly new in this space so they are on a learning curve. But my instincts say you will see a giant increase in the depth and breadth of marketing that will support their involvement."
Early Stages
Alex Kakoyiannis, managing partner at Navigame, a marketing firm based in New York, said it may be too early to call this move by the ad industry a trend. He said the medium is still relatively new and the process of placing an ad in a game is unique to each partnership. Some ads may require months for placement. Others may need only weeks.
"Like any new platform, the current challenges remain establishing standardized metrics needed to measure return on investment," said Kakoyiannis. "This is not stopping leading brands from entering the market, but is preventing major financial commitments."
That may be about to change. Activision and Nielsen Entertainment recently teamed up to provide advertisers with standardized measurement metrics for video game audiences.
As part of this partnership, the two launched a test using the Activision's new video game "Tony Hawk's Underground 2" to determine how long and how often players interact with specific brands inside the game. The test will feature Nielsen's watermarking technology that uses audio encoding to uniquely identify when players are exposed to product placements within the game.
Measuring Effects
The Chrysler Group, part of the German automotive group DaimlerChrysler, will be the first advertiser to take part in the test, which will measure consumer interaction with the Jeep brand featured in "Underground 2." Activision and Chrysler also announced that the Chrysler brand will be featured in the life simulation game "The Movies" to be released in 2005.
Meanwhile, The Digital Edge based in New York recently teamed up with Down Under Ingame Advertising, a European ad agency. The duo are developing a tool intended to help advertisers understand the value of different forms of video game advertising relative to traditional forms of media.
Liz Phillips, group director at The Digital Edge, is confident that advertising in video games will eventually become a standard platform. "We are seeing this as part of the Internet media plan at this time, since it is sort of in the test phase for many of our advertisers," said Phillips. "However, I think as we become more knowledgeable as to what we can really do within these games, we will definitely see an increase in number of advertisers."
Attracting Eyeballs
Robert Tuchman, president and founder of TSE Sports & Entertainment, a marketing firm based in New York, compared advertising on video games to an advertiser sponsoring a professional sports team or stadium deal. "With the popularity of video games and the growing interest around the world there is a lot of opportunity for advertisers," said Tuchman.
He said that marketers are putting together integrated plans that incorporate traditional media and video games. "This will help ad revenue in other traditional marketing because this is just one component that can help a fully integrated marketing plan," said Tuchman.
Paul Entin, president of epr, a marketing firm based in Bloomsbury, N.J., maintains that advertising in video games is not an entirely new concept. He cited Atari's "Pole Position" released in 1982. It showed billboards on the side of the track with Atari's logo. Entin said that he tried to get a previous firm he worked at involved in advertising within downloadable video games. But he admitted that they were a bit ahead of the curve at the time.
"The potential is huge simply because advertisers need to reach their target audience and their audience is not watching TV, so they are not seeing as many commercials," said Entin. "What people are doing is playing video games. So, if you want to reach them. you have to get your message inside the game — whether it's a console, arcade or Palm Pilot game."