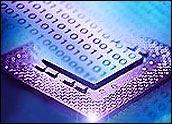 Agilent Technologies is selling its semiconductor business in yet another example of how the chip industry has blossomed with consumer, mobile and networking technology and devices, but has become a fast-moving, boom-or-bust business that is difficult to deliver for Wall Street.
The expected sale, a US$2.66 billion acquisition by Kohlberg Kravis Roberts & Co. (KKR) and Silver Lake Partners, was praised by both technology and financial analysts who indicated companies are now better off co-opting for semiconductors, as opposed to company divisions that must ride the roller coaster of the chip market.
"Awhile back, semiconductors used to be a strategic component of any large technology company," Gartner research vice president Martin Reynolds told TechNewsWorld. "What's happened now is, it's so expensive to keep up and the [chip] technology from third parties is so good, it doesn't make sense. They don't need it."
Sale To Separate
The buyers of Agilent's Semiconductor Products Group (SPG) — maker of chips for mobile devices, networking gear and optical equipment — said the business would focus on growth as a standalone enterprise.
"We believe that SPG can best realize its full potential as an independent company," said a statement from Agilent president and chief executive officer William Sullivan. "As we re-focus Agilent on its core measurement business, we are pleased to have found enthusiastic, experienced and supportive owners of SPG in the alliance of KKR and Silver Lake."
The investing companies indicated the transaction should close by October 31, and claimed the new chip company would be "the largest privately-held independent semiconductor in the world."
Fabless Chip Company
Gartner's Reynolds said that while companies historically needed internal chip divisions to bring their technologies to market, they have also struggled more recently with the bumpy chip market, facing dramatic swings up and down.
"By putting it out, they don't have to worry about that kind of consistency," he said. "Since Agilent is now a fabless chip company, to not have in-house manufacturing makes sense."
Reynolds indicated the deal was good for Agilent, which will continue to design chip technology, but will not be burdened by manufacturing. The analyst also said the deal was good for third party chip companies who are enjoying a growing market thanks to similar selloffs from IBM, Lucent Technologies, Motorola and others.
Big Chip Shakeup
AMR vice president of research Bill Swanton told TechNewsWorld that, historically, companies such as Agilent were vertically integrated, building every component from the chips on up for devices and solutions.
Referring to Agilent's spinoff from Hewlett-Packard in 1999, Swanton said "the original HP" was nevertheless aware of the value of contract manufacturing, and is now taking the strategy further, as are other organizations looking to avoid continued investment in fast evolving manufacturing equipment.
"It's a more efficient way of using some very expensive assets, and re-directing those assets," Swanton said.
The analyst added that with other, similar selloffs, such as Motorola's chip exit through sale to Freescale, the Agilent chip business sale is one of the later transactions in the trend.
"It's just a restructuring to have everybody better use their physical assets and intellectual property assets," Swanton said, noting that the spinoff creates more value for shareholders as well.