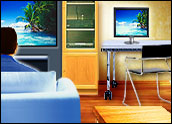 Television and other applications for video over the Internet got a boost this week with the announcement that telecom provider Alcatel and customer management software maker Amdocs were joining forces on services for Internet protocol-based TV, or IPTV.
The companies said they were collaborating on a convergence solution combining Alcatel's suite of IPTV offerings and Amdocs' IP Convergence Solution. The new technology could be ready to offer to service providers as early as the end of the year.
Paris-based Alcatel also announced it had been selected by China Telecom subsidiary Hubei Telecom to provide IP service routing for expansion and optimization of its Chinese network for the delivery of multiple services, including voice, high-speed Internet and IPTV, as well as virtual private network services for enterprises.
This pair of IPTV-related announcements highlight what analysts describe as a very young technology that is set to have a very big impact on how consumers and businesses watch and use television and other video.
"It certainly is the future," Gartner research vice president Martin Reynolds told TechNewsWorld.
Teaming on Triple Play
Alcatel and Amdocs said their partnership will include the creation of a joint architectural map and service offerings, and the pair plan to team on sales and marketing efforts as well.
"Today, in order to quickly deploy revolutionary new service offerings such as triple play [voice, data and video] and IPTV, service providers need not only the infrastructure, but a way to address the unique operational and billing characteristics inherent in these services," said a statement from Alcatel North American president Hubert de Pesquidoux.
De Pesquidoux claimed the joint effort would allow communications service providers (CSPs) to accelerate IPTV and other services' time to market while reducing operational costs associated with the new technology.
Real World Research
The companies also said they had already begun work on an interoperability lab that was intended to simulate real-world production environments and help foster their joint, end-to-end IP solution.
"Amdocs is looking forward to joining forces with Alcatel to help CSPs unlock new sources of revenue by becoming providers of IP-driven entertainment and communications services to their customers," sad Amdocs executive vice president Eli Gelman in a statement.
The duo indicated their interoperability lab would house different components of their combined solution, spanning from customer premise to the back end, including infrastructure, broadband network, switching, routing, transport and applications.
Big Deal, Bigger Wait?
Gartner's Reynolds said while the IPTV technology and bundled voice, data and video service is likely the future of television and home entertainment, it was still emerging from its infancy.
"It's a relatively immature technology, more from a market viewpoint than from a technology viewpoint," he said.
Still, Reynolds — who said he believes IPTV's future lies in home television and entertainment — said the ability to send IPTV over any digital media, including wireless and cable, regardless of local providers bolstered its potential impact.
"It's a big deal," he said. "The big question is not about next year. The question is 10 years from now, will we still have traditional broadcasters?"