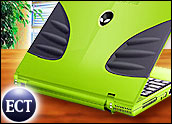 You'd never know the latest gaming notebooks from Alienware, featuring new wireless and multi-core processor technology, were actually coming from the world's largest PC maker, Dell, and that is just the way Dell wants it.
The computer giant does not want to drain down the boutique factor of Alienware's high-end hardware and customizable configurations that gamers love. Dell does, however, want to take advantage of its bulk buying power to increase what are already among the PC industry's highest margins, according to Gartner Research Vice President Van Baker.
"It's no surprise [Alienware] didn't mention Dell," Baker told TechNewsWorld. "That'd be the kiss of death. What they're going to do is leave Alienware alone, and try to take advantage of Dell's purchase power for even higher margins."
Distanced From Dell
Alienware's new notebooks, the 17-inch Aurora m9700 and 19-inch Aurora mALX, feature AMD Turion 64 X2 multi-core processing power and new Nvidia SLI technology, which features dual graphics processing unit (GPU) capability. They are reportedly priced at about US$2,000 and $4,500.
"It's a pretty hefty notebook in every way," Gartner Research Vice President Martin Reynolds told TechNewsWorld.
With Dell's ownership of Alienware, the new notebooks technically represent Dell products with AMD chips, Reynolds remarked. However, he said the use of AMD processors was likely an effort to further disassociate Dell and Alienware.
Finding MIMO
Among the biggest features of the new Alienware notebooks is new multiple input multiple output (MIMO) wireless capability from Airgo, which Alienware claims is capable of as high as 140 Mbps connectivity.
The "faster-than-wired" technology, as described by Alienware, is the basis of new 802.11n wireless, which promises bandwidth and power advantages, but is yet to be ratified as a standard by the Institute of Electrical and Electronics Engineers (IEEE).
"Because high performance users are increasingly embracing mobile platforms, Airgo's Gen3 True MIMO technology underscores Alienware's ongoing commitment to delivering the highest performance systems featuring uncompromised processing, graphics, storage, display and wireless technologies," said Alienware Vice President of Marketing Mark Vena.
Top Shelf
Baker, who said the Dell badge would instantly commoditize the higher-priced Alienware products, indicated the brand was acquired for its name, which is synonymous with "no-compromises, top-shelf components."
As for the 802.11n wireless technology, it has yet to become an official specification, and even when standardized will not be ready to transmit high-definition video, according to Baker.
However, for a home network with an 802.11n access point, the technology can provide speed and performance benefits, Reynolds added.
Heavy Tech
In addition, the MIMO wireless technology is incorporated using mini-PCI technology, which could be later updated depending on changes to the 802.11n specification, Endpoint Technologies Associates Founder and President Roger Kay told TechNewsWorld.
In terms of the size of the new Alienware notebooks, they have reversed the trend of thinner and lighter with bigger mobile gaming machines. At the same time, these bigger notebooks packing in more gaming performance and power.
"It's not something you're going to be using on an airplane," Kay said. "It is something you can take somewhere with you and set it up. It's what we call 'lugable.'"