With the unexpected news that Google's RSS feed reader, Google Reader, is being put outto pasture, many users are scrambling to find new tools for news consumption.
However, TechNewsWorld has been very much on top of the Android news app meleeover the last year, and we can recommend the top five free news apps still available for theAndroid platform.
About the Platform
Google's Android OS apps can be downloaded from Google's Play Store.
Browse to the Play Store in the device's app drawer by clicking on the app drawer icon.Then search for the app.
No. 1: Google Currents

Google Currents claims 10-50 million installs and has an average Google Play Store rating of 4.1 stars out of a possible 5 from 34,553 reviewers.

Google Currents is a pretty, magazine-like aggregator with a true offline solution that works well in airplane mode.
Users get newspapers and magazines by title and edition, rather than an amalgamation of articles delivered by category, so it replicates the hard-copy experience to a certain extent.
Content is free, which is remarkable, because some of these outlets charge for their content online or via their own apps.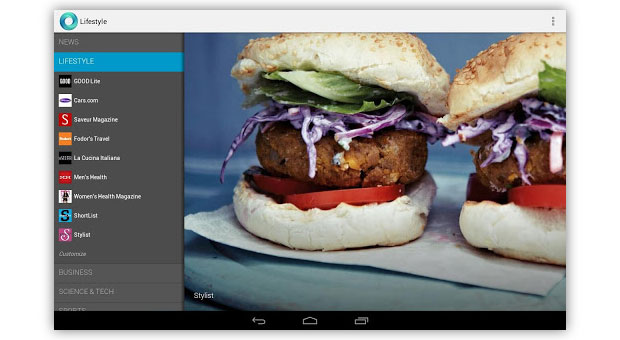 No. 2: Twitter

Twitter claims 100-500 million installs and has an average Google Play Store rating of 4 stars out of a possible 5 from 775,383 reviewers.

You can't beat Twitter for instant breaking and local news. Just subscribe to the inevitable feeds gushing out of your local media and public safety agencies to get a fix on cats in trees and other news.
More targeted news and information can be obtained from embassies and consulates, federal agencies and so on. This is the official app. Falcon Pro and others are better for Twitter with live streaming, but they charge.
No. 3: Feedly

Feedly claims 500,000 to 1 million installs and has an average Google Play Store ratingof 4.6 stars out of a possible 5 from 25,290 reviewers.

Feedly promises to take up the slack when Google Reader — TechNewsWorld's former favorite news app — shuts down on July 1.
Meanwhile, Google Reader users, start connecting your data and get used to Feedly. It may well become your default RSS reader, whether you like it or not.
Luckily, Feedly does provide a rather elegant and svelte interface. Whether it's going to be able to handle the RSS feed power-users' grunt-work formerly provided by Reader remains to be seen. We hope so.
No. 4: Flipboard
Flipboard claims 10-50 million installs and has an average Google Play Store rating of 4.5 stars out of a possible 5 from 107,899 reviewers.

Flipboard presents news in a flip-style mashup with your social feeds. It looks great and is particularly strong on photography. Pocket interoperability allows you to save articles for later across devices — including onto your desktop or laptop machines.
It's a coin-toss with Feedly, and it would be a tie if it weren't for Feedly's raw RSS strengths. Try them both though, and see which one you like the most.
No. 5: The Guardian
The Guardian claims 500,000 to 1 million installs and has an average Google Play Storerating of 4 stars out of a possible 5 from 3,421 reviewers.

Ignore the regionality of this app. It's from a center to left-of-center UK daily newspaperknown for respected content and typos — it's nicknamed "the Grauniad." Where this appexcels and comes into its own is in its offline functions.
Install the app, choose an overnight download time over WiFi or mobile network, andenjoy a smart newspaper read on international issues while out and about, withoutbothering about connections.
This is one of the most robust news downloads we've experienced, because it's availabledaily, without fail, and for free — suggesting that there might be some advantages tosocialism.
Want to Suggest an Apps Collection?
Is there a batch of apps you'd like to suggest for review? Remember, they must all be for the same platform, and they must all be geared toward the same general purpose. Please send the names of five or more apps to me, and I'll consider them for a future All Things Appy column.
And use the Talkback feature below to add your comments!