Two genres of augmented reality tools are prevalent on the mobile device.
The first AR genre is geolocation, which uses built-in hardware sensors and phone features like the compass and GPS chip to create a heads-up display — think movie fighter-pilot cockpit, where the plane's instrumentation is superimposed on the windshield.
The second is a vision-based AR, which visually shows digitally created objects in context with real objects. Think visualizing a virtual new piece of furniture in an existing living room. Vision-based AR uses the same device hardware tools and sensors that geolocation uses.
In this week's All Things Appy, we take a look at the top five free Android apps to use for exploring this exciting arena.
About the Platform: Google's Android OS apps are available in its Play store.
Browse to the Play store within the mobile device's app drawer by clicking on the app drawer icon. Then perform a search for the app.
No. 1: Wikitude

Wikitude claims 1 million to 5 million installs and has an average Google Play store rating of 4.2 stars out of a possible 5 from 12,874 reviewers.

The Wikitude app is the best way to get an introduction to geo-located AR in the Android mobile environment. Start the camera and hold the phone up to immerse yourself in AR.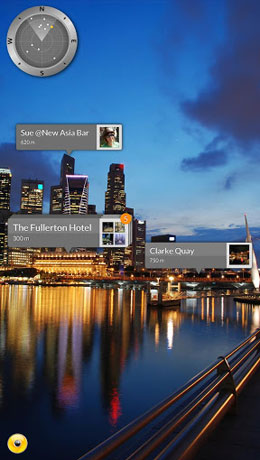 By choosing a category — like Sights when traveling, for example — the app will provide background information on the sight that you're pointing the camera at. Glance at the screen when out and about for information on over 100 million places.
No. 2: iOnRoad Augmented Driving Lite

iOnRoad Augmented Driving Lite claims 500,000 to 1 million installs and has an average Google Play store rating of 3.8 stars out of a possible 5 from 3,531 reviewers.

Here's a driving safety app that uses vision-based AR. This app uses the smartphone's camera and GPS to sense other cars in front of yours. Position the phone on a windscreen mount, drive normally and the visual AR checks for objects in real time. The app will then alert you to possible collisions — you hope.
No. 3: Augment – 3D Augmented Reality

Augment claims 100,000 to 500,000 installs and has an average Google Play store rating of 4 stars out of a possible 5 from 811 reviewers.

This app also demonstrates vision-based AR superbly. You can create and present 3D models in actual scale and environment. It's a good app for getting the hang of the technique. Persist with it, though, because it can be a bit tricky getting your head around the concepts. Check out YouTube videos if you get stuck.
No. 4: Satellite AR
Satellite AR claims 1 million to 5 million installs and has an average Google Play store rating of 4.3 stars out of a possible 5 from 4,076 reviewers.

Point the smartphone's camera to the sky and you'll see breadcrumb-like tracking icons for satellites above you. If you've ever been star-gazing and wondered which twinkling lights were stars and which were satellites, here's the tool.
The app includes the International Space Station, out of interest, and also television, so it can be used to aim TV dishes if yours ever gets out of whack.
No. 5: Layar
Layar claims 10 million to 50 million installs and has an average Google Play store rating of 3.3 stars out of a possible 5 from 71,251 reviewers.

This has been, over time, a hugely popular geo-AR app available in the Google Play store, and there's a reason for that — it was one of the first widely available mobile augmented travel apps, very similar to our No. 1 choice Wikitude.
However, today it's an app for activating static print pages with augmented reality through the use of QR codes.
TechNewsWorld is including it in our top five because although it lacks participating print pages, it's an interesting concept, and the website lets you make a free page to test.
It's worth exploring if you're interested in AR for marketing purposes.
Want to Suggest an Apps Collection?
Is there a batch of apps you'd like to suggest for review? Remember, they must all be for the same platform, and they must all be geared toward the same general purpose. Please send the names of five or more apps to me, and I'll consider them for a future All Things Appy column.
Don't forget to use the Talkback feature below to add your comments.