Reference is the perfect genre for app and extension exploration. Web page pop-upsand on-the-fly search results are all possible.
This week, TechNewsWorld's All ThingsAppy takes a look at the best in this category.
About the Environment
Google's Chrome apps and extensions can be downloaded from the Chrome Web Store.Download a Chrome browser, and then click on a new tab from within the browser.
Choose the Chrome Web Store link in the lower right corner of the page. Use the on-page Search text box to find the required app. Alternatively, browse by selecting Apps orExtensions.
What's the Difference? Within Google's Chrome environment, apps are often self-contained, whereas extensions can provide pop-up functions or otherwise interact with a Web page.
No. 1: Dictionary.com Extension
The Dictionary.com Extension has 4+ stars out of a possible 5 from 73 reviewers in theChrome Web Store. The extension has 20,911 users.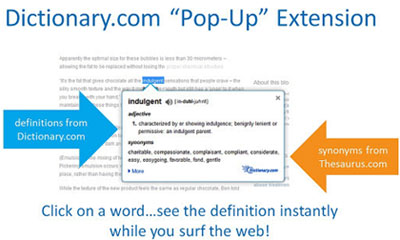 This extension is distinct from Dictionary.com's app for Chrome which merely opens aWeb page. The Dictionary.com Extension lets you double-click on any word, on any Webpage, to see the definition in a pop-up box — or you can enter the word in a search box.
Both are fast ways to look up words, and are infinitely superior to having to launch a taband flip between dictionary tab and text that you're reading.
Options include supplying synonyms, and moving pop-up positions within the Web page.
No. 2: Search Box

Search Box Extension has 4 stars out of a possible 5 from 294 reviewers in theChrome Web Store. The extension has 43,805 users.

You're not missing something if you've noticed that Google Chrome browser productdoesn't have a native search box or search bar.
Tirokea's Search Box Extension fixes theomission by providing a search icon next to the browser address bar that you can click onto launch a search pop-up.
All the usual search suspects are included and more — including Twitter, Amazon andYouTube — and you can add, disable or remove any of them.
No. 3: Wikipedia Instant

Wikipedia Instant has 4 stars out of a possible 5 from 33 reviewers in the ChromeWeb Store. The app has 8,932 users.

Wikipedia Instant, from Wikipediainstant.herokuapp.com, suggests topics and displaysWikipedia articles when you enter search terms in the search box. It's faster than theWikipedia website, because the app starts to search as you enter the text.
TechNewsWorld likes this app partly because it's a good example of how an app canprovide faster functions over a plain old static website.
No. 4: Google Maps
Google Maps has 4+ stars out of a possible 5 from 8,439 reviewers in the Chrome WebStore. The app has 5,078,114 users.

What an extraordinary product. Who would have thought 15 years ago, thumbingthrough paper maps, phone books and atlases, that within a few short years, localbusiness information, street-level imagery and directions from around the world would bewrapped into one free interface: Google Maps.
Disappointingly, this app isn't much more than a website with no additional features,which is why TechNewsWorld rates it a runner-up position in this Best-Of app roundup. However, as with the other four apps here, it's a must have.
No 5: wikiHow Survival Kit
wikiHow Survival Kit has 4+ stars out of a possible 5 from 402 reviewers in theChrome Web Store. The app has 100,378 users.

Thousands of people have voluntarily contributed to this compendium app that tellsyou how to care for pygmy goats, run away from home with your dog and survive (tip:don't go to a friend's house, it'll be the first place parents look), and how to get a Chinadriver's license, among other gems.
Treating hypothermia, identifying a stroke victim, and how to stop bleeding are probablymore useful reads — they're all included, along with about 88,000 other articles in anenjoyable, animated app launched from a new tab.
Want to Suggest an Apps Collection?
Is there a batch of apps you'd like to suggest for review? Remember, they must all be for the same platform, and they must all be geared toward the same general purpose. Please send the names of five or more apps to me, and I'll consider them for a future All Things Appy column.
And use the Talkback feature below to add your comments!