Apps are threatening to relegate favorites and software to the recycle bin.
TechNewsWorld's All Things Appy looks at the best apps for our mobile devices today. This week, our focus is on entertainment apps for the Windows 8 ecosystem.
Windows 8, Microsoft's latest operating system, has its own app library. In many cases, theseapps can replace now-aging bookmarks or favorites, and the software that we used toinstall from floppies, CDs or downloads.
Windows 8 apps are often usable on both desktop or laptop PCs, as well as tablets. Navigationtricks include swiping up from the bottom, or right-clicking with a mouse to reveal appcommand tools.
About the Platform
Apps can be downloaded from the Windows 8 Store, which is reachable only onmachines running Windows 8. Click on the Start page store tile and browse to the category you'dlike to view.
Alternatively, move your mouse or finger to the bottom-right corner of thescreen and choose the Search charm's icon.
No. 1: TuneIn Radio

The TuneIn app is rated 3+ stars out of a possible five with 1,221 ratings in the Windows8 Store.

TuneIn lets you listen to 70,000 global radio stations, and the Windows 8 tile-likeinterface is suited to browsing across genres and by locality.
While playing, the app is good looking andeasy on the eyes. Music, sports, news and current events are available liveand on-demand by episode.
Searching is via the Windows 8 Search charm, which takes abit of getting used to. Favorites can be pinned to Start.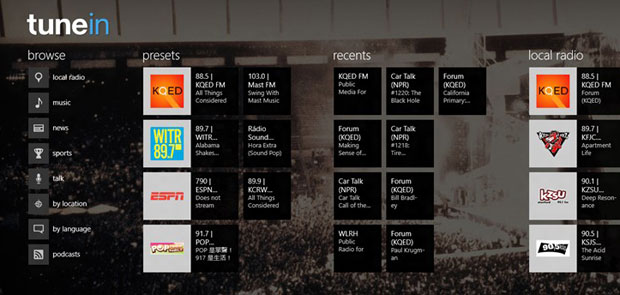 TuneIn Radio
No. 2: Kindle

Kindle is rated three stars out of a possible five with 1,469 ratings in the Windows 8Store.

You can have a million books in the Kindle store synced to your Windows machine.
Sign in with anAmazon account, and your books sync across devices.
There's still no in-app Kindle book store, though. As with other Kindle apps, this one throws you head first into the messy Amazon website, but it's an elegant reading interface nonetheless.
It sports an excellent static tile pin-to-Start screen feature for individual books.
No 3: NBC News

The NBC News app is rated 3+ stars out of a possible five with 328 ratings in theWindows 8 Store.

Read and watch the news — NBC use the term "fluidly" in its blurb.
This app gives you customizableFavorites tiles that include MSNBC video genres such as World, as well as U.S. video newssnippets. Articles are cached offline.
With its colorful tiles, this is a must-have app, but an inexplicable lackof full-length shows like NBC Nightly News, and a static start page tile make this aTechNewsWorld runner-up.
No. 4: ABC Player
This ABC Player app is rated 2+ stars out of a possible five with 467 ratings in theWindows 8 Store.

This app provides access to full-length, advertising sponsored, recent episodes of ABC shows like Nashville, ModernFamily, Happy Endings, Revenge, and Dancing With the Stars — all for free.
If you likethat kind of thing, this app will keep you entertained for as long as your device or laptopbatteries last.
No. 5: Nick
The Nick app is rated four out of a possible five with 193 ratings in the Windows 8 Store.

SpongeBob and Teenage Mutant Ninja Turtles are among the characters found in this Nickelodeon app.
TechNewsWorld isn't suggesting you regress to your childhood;however, this app is a must-have to occupy the kids.
Animated clips and childishlyamusing videos are interspersed with games including Spongebob's Jellyfishin' Mission.
Charge your batteries, obtain an Internet connection, and don't leave on a family tripwithout it.