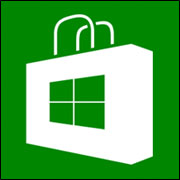 You can do a whole lot more than watch your favorite sports on television these days if you take advantage of a second screen. The concept is simple: The big TV screen provides the visual action, while your laptop or tablet dishes out in-depth analysis and social media commentary on the side.
Windows 8 has some superb apps for this purpose.
This week's All Things Appy takes a look at the top five Windows 8 team- and sport-agnostic, free sports apps.
About the Ecosystem
Windows apps can be obtained from the Windows 8 Store, which can be accessed only within Windows 8.
Click or touch the Start page Store tile and then browse.
You can search by placing your mouse pointer or finger in the bottom-right corner of the screen and selecting the Search charm.
No. 1: ESPN App

The ESPN app is rated 3+ stars out of a possible 5 with 4,350 ratings in the Windows 8 Store.

This, the sister app to the ESPN sports television channel, lets you dual-screen by keeping one eye on your tablet or PC and one on the big screen.
The app provides the latest scores and analysis for numerous sporting events. Alerts and updates can be tied into live Windows 8 tiles too. Linking to a personal account wraps the package.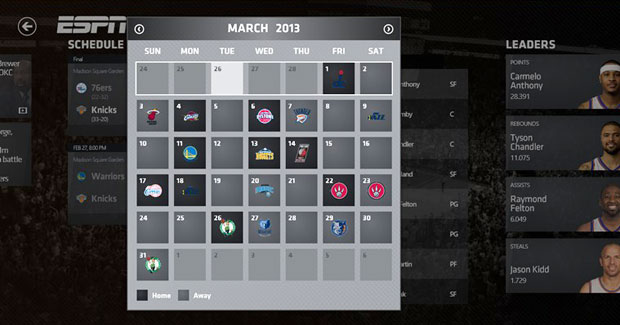 No. 2: Bing Sports

The Bing Sports app is rated 3+ stars out of a possible 5 with 1,067 ratings in the Windows 8 Store.

Bing Sports, called "Sports" in the app store, has an advantage: It's already installed as an app within Windows 8, so it's easy to check it out — look for its tile on the Start page.
The app includes a comprehensive set of sports and player headlines linking to news stories, video snippets, slide shows and major sports schedules. Additionally you can set up and track a favorite team.
No. 3: Buzztap

The Buzztap app is rated 3+ stars out of a possible 5 with 11 ratings in the Windows 8 Store.

Buzztap is an intriguing concept. It provides you with a bunch of tiles that reference the latest trending sports topics.
Click on a tile — for example, Tiger Woods in the Golf category — and media references to the topic appear. In this case, you'll see news articles and tweets about the player.
A trending category lets you see what's hot.
TechNewsWorld likes this app because it demonstrates the power of Windows app tiles over a common Web browser. Give it a shot if you want to see where the Internet is headed.
No. 4: PlayUp
PlayUp is rated 3 stars out of a possible 5 with one rating in the Windows 8 Store.

PlayUp is an aggregator of Twitter feeds, You Tube video, news, radio stations, and images relating to specific sports and events. The app claims to provide key stats for more than 55,000 live games, but its strength is that it pulls together all of the action and social networking into one interface.
We found the app a little lacking in social network feeds on occasion, but the concept is sound and it's a must have if you'd like to see where sports apps are headed.
No. 5: Yahoo Sports
The Yahoo Sports app is rated 4+ stars out of a possible 5 with four ratings in the Windows 8 Store.

Within the app, you'll get live NBA, NFL and NCAAF only. For other sports, you'll need a Web browser, but the app does provide play-by-play descriptions and exclusive blog commentary.
A teams and standings roster and a schedule round out the mix. Yahoo Sports is a solid app, but it gets a runner-up position due to the limited number of sports included.
Want to Suggest an Apps Collection?
Is there a batch of apps you'd like to suggest for review? Remember, they must all be for the same platform, and they must all be geared toward the same general purpose. Please send the names of five or more apps to me, and I'll consider them for a future All Things Appy column.
And use the Talkback feature below to add your comments!