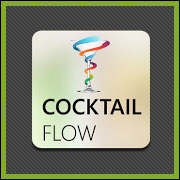 Here's a look at some of the must-have apps for your kitchen.
Apps in this genre bring interactivity, crowdsourcing and reverse searching to the table.
About the Platform
Google's Android OS apps are available in Google's Play Store.
Browse to the Play Store in your smartphone by clicking on the app drawericon. Then just search for the app.
No: 1. Cocktail Flow
Cocktail Flow claims 500,000 to 1,000,000 installs and has an average Google Play Storerating of 4.6 stars out of a possible 5 from 4,631 reviewers.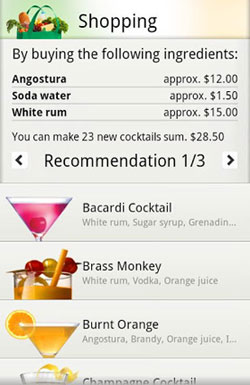 Distinction's Cocktail Flow features a cabinet system that lets you inventory your bar and then proposes cocktail recipes based on what you've got. The recipes display a list of similar drinks, so if you find one you like, you can experiment with variations on the theme.
This is functionality that really shows off the power of app over website or book.
Shopping suggestions for augmenting your bar, along with a budget guesstimate, tell you how many new types of cocktails you're going to be able to make after a trip to the liquor store — and roughly how much it will cost.
The app's guides explain the essentials needed to get started with your cocktail creations — from bar tools to garnishing techniques.
An animated screen, plus step-by-step preparation instructions round out the mix.
No. 2: iGrill

iGrill claims 1,000 to 5,000 installs and has an average Google Play Store rating of 3.5stars out of a possible 5 from 47 reviewers.

An Android-based grill-monitor app, iGrill from iDevices uses Bluetooth to connect witha $70 hardware probe, letting you socialize while keeping an eye on the BBQ.
It's just one example of a hardware-and-app combo that we're seeing more of — particularly in the personal fitness-monitoring arena — and a great example of smartphone extension.
Preset food temperature settings can be customized, and a smoker with an optionalambient probe has upper and lower limit alarms that are designed for long meat and fishsmokes.
No. 3: Fooducate

Fooducate – Healthy Food Diet claims 1,000,000 to 5,000,000 installs and has an averageGoogle Play Store rating of 4.4 stars out of a possible 5 from 3,039 reviewers.

Scan barcodes of processed foods you've purchased or are considering, and gainintelligence on the product with the Fooducate app.
The app provides a calorie count-per-serving and interprets nutritional data giving comprehensible adjectives rather than cryptic numbers.
For example, it uses "Very high in saturated fats" rather than 7 grams and "Salty!" in lieu of 800-mg of sodium per serving. Good job.
No. 4: Recipe Search
Allthecooks.com's Recipe Search claims 5,000,000 to 10,000,000 installs and hasan average Google Play Store rating of 4.3 stars out of a possible 5 from 17,036reviewers.

An Editor's Choice app at the Google Play store, this app has 150,000 recipes withcrowdsourced comments. An ingredients search provides recipe results based oningredients. Chat and food topic forums complement the app.
As with app Cocktail Flow, apps like Recipe Search provide functions unobtainable froma static bookshelf — like questions and comments from those who've tried the recipe.
No. 5: GrubHub
GrubHub Food Delivery/Takeout claims 500,000 to 1,000,000 installs and has an averageGoogle Play Store rating of 4.5 stars out of a possible 5 from 7,532 reviewers.

Burn the toast? Forget the kitchen altogether and order in with GrubHub. Search foryour current location, and get a delivery and pickup restaurants list.
The app claims more than 17,000 restaurants in 400 cities. Peruse the menu, view delivery charges, if any, and order.
This app also provides crowdsourced reviews of the ordering process. In one case, afavored in-dining local joint delivered unacceptably cold food to a user two hours late –according to the app. Good to know.
Want to Suggest an Apps Collection?
Is there a batch of apps you'd like to suggest for review? Remember, they must all be for the same platform, and they must all be geared toward the same general purpose. Please send the names of five or more apps to me, and I'll consider them for a future All Things Appy column.
And use the Talkback feature below to add your comments!