Photography, film, music and fine art are all noble pursuits.
In this installment of All Things Appy, we take a look at the five best free apps for the Chrome Web browser that let you explore or participate in these arts.
About the Ecosystem
Google's apps and extensions for its Chrome browser can be obtained in the Chrome Web Store.
You can access the Web store on Chrome by clicking the button labeled "Apps" rather than looking for the Chrome Web Store button on a newly opened tab.
No. 1: 500px

The 500px app has 4.5 stars out of a possible 5 from 465 reviewers in the Chrome Web Store. It has 215,960 users.

Geared toward image showcasing and display across the Chrome ecosystem, the 500px app lets you browse and search for 500px photography. No work involved — it's for viewing.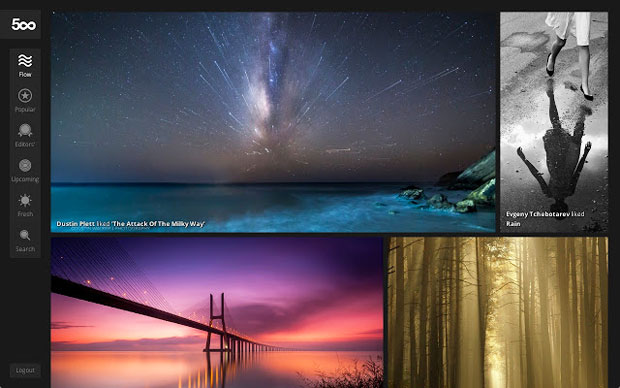 The 500px collection is housed in a photography-oriented social network-like environment. The idea is that you follow photographers you like and see the images they like.
There's high quality material here, although we think some of the surface material can be a bit "chocolate box," or over-tweaked. Drill down when you see something you like.
No. 2: WeVideo

The WeVideo Video Editor and Maker has 4 stars out of a possible 5 from 2,734 reviewers in the Chrome Web Store. The app has 385,372 users.

Whereas our No. 1 selection, the 500px app, is for showcasing your stills, WeVideo is for editing and making videos — for free, if you can live with 480p. Higher resolutions are available for a fee.
A superbly simple, timeline-driven editor, WeVideo leads you along with an interactive tutorial — if you need leading, that is.
Numerous tricks are included, such as Ken Burns-style stills with slow zoom and pan. Themes include Noir and Punk, among others.
No. 3: Until AM for Chrome

Until AM for Chrome has 4 stars out of a possible 5 from 1,648 reviewers in the Chrome Web Store. The app has 463,235 users.

If you want to find out how hard it is to be a DJ and create a cacophony of noise at the same time — assuming you've never DJ'd before — this is the app for you.
Here's a quick and easy way to find out why star DJs make thousands a night — and the rest of us don't.
Until AM for Chrome brilliantly replicates two turntables and lets you drag and drop music from SoundCloud, Google Music or your hard drive onto the turntables.
You then fade to left or right, adjust pitch control, and so on, with realistic in-app slider controls.
No. 4: UJAM
UJAM has 4 stars out of a possible 5 from 541 reviewers in the Chrome Web Store. The app has 210,151 users.

Continuing the theme of creating a cacophony, UJAM lets you make music in the cloud. The app allows you to compose, record and arrange a song.
Tools include a chord editor, editing melodies and so on. The publisher reckons remixing is probably the easiest way to get started.
Be patient — results are dependent on some basic musical knowledge. It isn't a magic pill, but it is fun.
No. 5: Psykopaint
Psykopaint has 4 stars out of a possible 5 from 3,302 reviewers in the Chrome Web Store. The app has 1,063,128 users.

Psykopaint is for painting on photographs. To describe it as "fine art" may be a bit of a stretch.
Choose the colors and pick brushes. Then work on the original image to make your statement.
Styles like Munch or Renoir can be chosen too.
Social networking is integrated by way of Facebook.