It's mid-April, and spring is in the air — that time of year when a young man's or young lady's thoughts turn to money. Conveniently for us all, the Web browser is a fine place to organize finances, whether you want to get the process over with as fast as possible, or enjoy it in king-is-in-the-counting-house mode.
Google's Chrome Web browser is resplendent with numerous add-ons fit for the purpose.
In this, TechNewsWorld's regular best-of apps column, we take a look at the top five must-have apps or add-ons in the finance category.
About Google's Chrome Web Browser
This environment features three types of add-on: Web apps, themes and extensions. All can be obtained from the Chrome Web Store.
Select the Chrome Web Store link in the lower right corner of a new tab in the browser. Then search by entering the add-on name in the search text box.
No. 1: Financial Calculator

Financial Calculator from financial-calculator.appspot.com has 3+ stars out of a possible 5 from 49 reviewers in the Chrome Web Store. The app has 58,465 users.

This app does what it says it does. It's a browser-based financial calculator with a simple interface. Calculators include Mortgage, EMI, Loan Term, Loan Amount, Interest, Time Deposit, Recurring Deposit, Stocks, Yield to Maturity, Bonds, IRR, APR and ROI.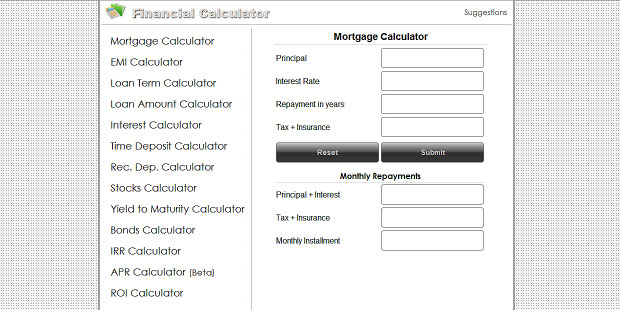 No. 2: Google Finance

Google Finance has 4 stars out of a possible 5 from 428 reviewers in the Chrome Web Store. The app has 318,319 users.

Google's own finance product, within its browser environment, comes feature-packed.
Real-time stocks, quotes, charts and financial news tie in with a customizable watch list that you can share. All of the fiscal watch tools that you would expect are in this much-liked product.
It also offers some analytical Google-ese, like comparing stocks across a variety of criteria, industry trends and technical indicators.
No. 3: Zoho Invoice

Zoho Invoice has 4 stars out of a possible 5 from 43 reviewers in the Chrome Web Store. The app has 36,863 users.

Online integration in this app means that you can invoice clients across devices, including Google's Android smartphones. This means you don't have to be pushing paper back at base to get paid. When you add automation, Zoho reduces time spent invoicing too.
This app features time-tracking, expenses, reports and an all-important follow-up on payments.
Upgrade to more elaborate Zoho Books should you outgrow Zoho Invoice.
No. 4: Cash Organizer
Cash Organizer has 3 1/2 stars out of a possible 5 from 98 reviewers in the Chrome Web Store. The app has 46,056 users.

This Intuit Quicken-substitute small office and home finance organizer lets you control budgets by producing graphical and textual reports based on what you spend.
Transactions are classified, and account balances, including those from individual banks or currencies are maintained. The whole thing is protected with 256-bit security encryption at all times.
No. 5: Vuru
Vuru, a stock analyzer, has 4 stars out of a possible 5 from 54 reviewers in the Chrome Web Store. The app has 43,075 users.

If you're using any of Google's products, in this case Google's Chrome Web browser, it's possible you're into analytics and the deep research that Google thrives on. If so, Vuru may be for you.
This app is a great example of a browser add-on. It runs automated analysis on stocks and creates reports for investors that can help throw light on investment decisions. Four U.S. exchanges are covered, and the analysis is totally automated, so it should be unbiased.
Want to Suggest an Apps Collection?
Is there a batch of apps you'd like to suggest for review? Remember, they must all be for the same platform, and they must all be geared toward the same general purpose. Please send the names of five or more apps to me, and I'll consider them for a future All Things Appy column.
And use the Talkback feature below to add your comments!