This week TechNewsWorld takes a look at the top five must-have social networking tools for the Mozilla Firefox desktop environment. Social networks have taken mobile by storm, but the PC is still a player — particularly based on its copious screen real estate.
Aggregation across social networks, one-click helpers, easy search, sharing, and the killer app that is image viewing in detail all present themselves well in this field.
About the Platform: Use the Search box in the Add-ons browser page, or browse for the link and choose it. Click on the add-on, let it install, and then restart Firefox if prompted.
Add-ons are sometimes called "Extensions" after they have been installed.
No. 1: Yoono

Yoono has four stars out of five from 420 user reviews in Firefox's Add-ons library. The add-on has a total of 395,742 users.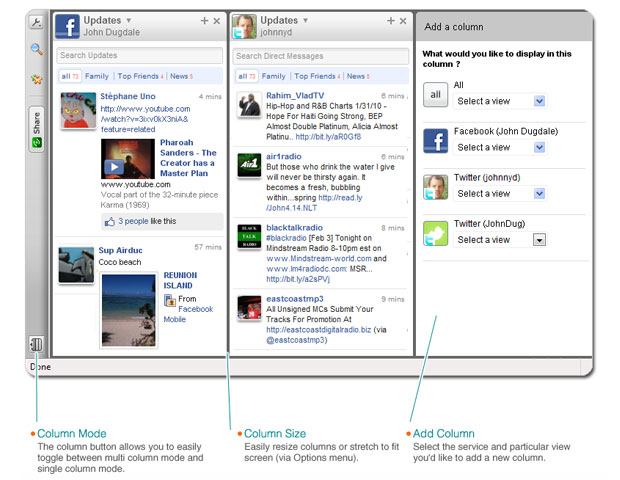 Facebook, Twitter, LinkedIn, YouTube, Flickr and more are included in Yoono's social network aggregator for Mozilla Firefox. The app supplies a sidebar within the existing Firefox browser for timelines, updates and so on. Plus, there's a pop-up window for instant notifications.
If your life revolves around social networks and you're stuck to a PC, this is the No. 1 must-have tool.
No. 2: Facebook Toolbar Button

Facebook Toolbar Button has four stars out of five from 19 user reviews in Firefox's Add-ons library. The add-on has a total of 23,372 users.

Baris Derin's super-simple Facebook Toolbar Button provides one-click access to your Facebook News Feed. That's it. Just click on the button within the navigation tool bar and a new browser tab opens with Facebook in all its glory.
TechNewsWorld believes this helper is the fastest way to get to Facebook in a browser PC environment without making Facebook your Firefox Home page.
We also recommend checking out some of Derin's other, equally useful, helpers — like the Facebook Share Button, which gives you one-button access to share Web pages to Facebook.
No. 3: Twitter Address Bar Search

Twitter Address Bar Search has four stars out of five from 37 user reviews in Firefox's Add-ons library. The add-on has a total of 31,763 users.

The Twitter Address Bar Search browser helper lets you search people and topics on Twitter from the address bar in the Firefox browser. All you have to do is use the @ sign to look for a username and the # hashtag for a topic — all within the bar.
If you're finding that you're using Twitter search frequently and browser window-flipping to do so, this will speed things up significantly.
No. 4: Thumbnail Zoom Plus
Thumbnail Zoom Plus has five stars out of five from 131 user reviews in Firefox's Add-ons library. The add-on has a total of 106,344 users.

This add-on enables a larger image pop-up when you hover over a thumbnail. It works with the usual social suspects like Facebook, Twitter, YouTube and LinkedIn. More sites, like Amazon, are listed in the blurb too.
This is a killer way to speed through a perusal of your timeline. Say goodbye to squinting at the screen. Just mouse over the image, and it blows up and into a lean-back experience.
The large, detail-rich images produced by this app demonstrate the superior experience of large-screen PC over mobile in certain detail-oriented situations.
No. 5: Add This
Add This has four stars out of five from 205 user reviews in Firefox's Add-ons library. The add-on has a total of 310,558 users.

Add This lets you share Web pages and other Firefox browser-sourced assets. If you find yourself cutting and pasting Web page addresses and then emailing them to friends, you're ready to join the 21st century — this app will help.
Share photos, videos, and Web pages on Facebook, Twitter, Pinterest AIM, Blogger, Delicious and more.
Want to Suggest an Apps Collection?
Is there a batch of apps you'd like to suggest for review? Remember, they must all be for the same platform, and they must all be geared toward the same general purpose. Please send the names of five or more apps to me, and I'll consider them for a future All Things Appy column.
And use the Talkback feature below to add your comments!