In this week's All Things Appy, we take a look at the top five free tools for Firefox that will help you navigate the polyglot world.
The PC-based browser is well-suited to languages, and in this week's piece we recommend the best pop-up dictionary along with a multilanguage search tool and highly efficient translator engines that are superior to hard-copy dictionaries.
About the Platform: Click on the Add-ons link in Tools on the Menu bar in Firefox. Then use the Search text box to find the add-on, or just browse for the link and choose it. Click the add-on, allow it to install and then restart Firefox if you are prompted.
Note that add-ons can be called "extensions" when they have been installed.
No. 1: Dictionary Pop-Up by Dictionary.com (Official)

Dictionary.com's Dictionary Pop-Up has 4 stars out of 5 from 44 user reviews in Firefox's add-ons library. The add-on has a total of 20,159 users.

Looking up words in the dictionary while online should be easier than it is natively, and this app solves the cumbersome copy-and-paste-to-browser search bar interaction that we convolutedly, ordinarily perform.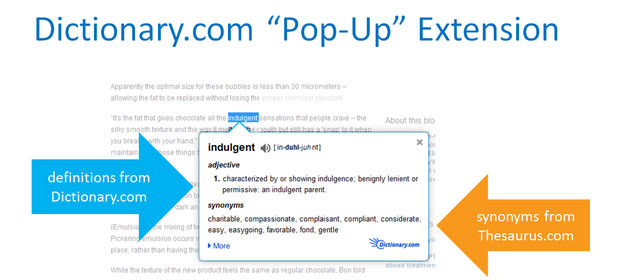 This add-on lets you double-click the word, and up pops the definition in a simple, elegant box. It's a splendid example of added browser usability from the app world.
No. 2: Google Translator for Firefox

Google's Translator add-on has 4 stars out of 5 from 173 user reviews in Firefox's add-ons library. The add-on has a total of 585,413 users.

While this translator app doesn't always get it spot on, it's not bad. You won't gain a language doctorate with it, but it's a great way to grasp languages and cultures.
It works particularly well when reading foreign language newspapers online, and is terrific for translating foreign language research papers, and so on.
No. 3: Firelang

Dimitri Titov's Firelang has 5 stars out of 5 from five user reviews in Firefox's add-ons library. The add-on has a total of 544 users.

This app is slightly different from Google Translator in that it translates on a word-by-word basis rather than by page-sized chunks. This allows you to read in the foreign language and get prompted for the word meaning only if you get stuck.
You can conveniently adjust the user interaction so that words translate on either mouse click or mouse hover-over. Using the hover-over option allows you to operate click-based apps — like our No. 1 wordy choice, Dictionary.com's Pop-Up — alongside this app.
No. 4: Alpheios
Alpheios has 5 stars out of 5 from one user review in Firefox's add-ons library. The add-on has a total of 579 users.

Here's the best tool for reading Latin and Greek texts in the Firefox browser. The classics are notoriously troublesome to master, and this add-on will translate on a word-by-word basis when you double-click on it.
"Perfer et obdura, dolor hic tibi proderit olim," or "be patient and tough, someday this pain will be useful to you," as they say.
To use this app, load the Alpheios Basic Libraries first from Firefox, and then the relevant language module.
No. 5: Google Quick Search in 6 Languages
GlobalSearchTools' Google Quick Search in 6 Languages is not yet rated in Firefox's add-ons library. The add-on has a total of 1,314 users.

This app can provide regional context to a word.
Speedily look up words on English, Spanish, French, German, Swedish or Arabic Google search websites by clicking on a word within a Web page and choosing the look-up site language.
Want to Suggest an Apps Collection?
Is there a batch of apps you'd like to suggest for review? Remember, they must all be for the same platform, and they must all be geared toward the same general purpose. Please send the names of five or more apps to me, and I'll consider them for a future All Things Appy column.
Don't forget to use the Talkback feature below to add your comments.