The touchscreens prevalent on vast numbers of laptops awaiting your hard-earned dollars in consumer electronics stores accommodate highly suitable new tools for creating art.
The tactile nature of the screen, as opposed to the awkward mouse, makes sweeping strokes and other gestures a lot easier.
This week's All Things Appy takes a look at five must-have, free Windows 8 apps that take advantage of this new method of computing.
About the OS
Windows apps are found in the Windows 8 Store, which is available within Windows 8. You can now browse it in Windows 7 too.
Click or touch the Start page Store app icon, and then search by placing your mouse pointer or finger in the bottom-right corner of the screen. Then choose the Search icon.
No. 1: Fresh Paint

Fresh Paint has an average rating of 4 stars out of a possible 5 with 4,809 ratings in the Windows 8 Store.

This Microsoft-published app has realistic-looking and performing brushes, and a paint pallet that replicates actual brush-on-canvas — kind of. It doesn't replicate the smell of the oils or the tactile feel of the brush, but it does make authentic looking brush strokes.
I don't think you'll be creating any Mona Lisas — even if you do splurge on the US$2.49 creative pack, which pitches "making a masterpiece in minutes." However, with practice, you might get away with mimicking abstract expressionist Rothko.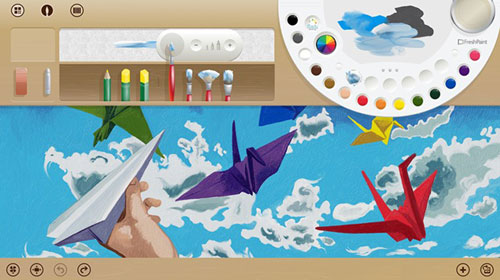 No. 2: Adobe Photoshop Express

Adobe Photoshop Express has an average rating of 4 stars out of a possible 5 with 2,217 ratings in the Windows 8 Store.

The ipso facto photo editing suite comes to Windows 8 in the form of this stripped-down app.
It's not the Photoshop used by graphic designers and photo pros, but it is free, and it does have great tools — like crop, seasonal filters, reduce noise, and the killer Instant Fix button for your webcam and file images, which alone places this app in the All Things Appy stratosphere.
No. 3: Draw Free

Draw Free has an average rating of 4 stars out of a possible 5 with 696 ratings in the Windows 8 Store.

This app offers a great way to get your brand new laptop, with its gorgeous touchscreen, covered in goo. This app lets you — or more likely, your kids' — finger draw on the screen.
Additional interesting features include the ability to get multiple users on the same network to collaborate on a drawing; sound effects; and coloring pages reminiscent of coloring books.
No. 4: Designs
Corel's Designs has an average rating of 4 stars out of a possible 5 with 145 ratings in the Windows 8 Store.

Here's a way to browse and share stock photography and other art. It comes from Corel, which made the first graphics software for Windows in 1989. Its CorelDRAW software changed the graphics industry.
This app's most enjoyable feature, and a must-have if you're a serious artist, is its community galleries that let you share work with peers.
No. 5: Particle Art
Particle Art has an average rating of 4 stars out of a possible 5 with 215 ratings in the Windows 8 Store.

Particle Art profers a simple way to create art on the screen without actually doing much. The idea is that you drop a point, called an "Attractor," on the screen and then line art is generated in an infinite variety of wavy forms.
The results look a bit hippie-ish — the kind of poster art that you'd imagine hanging in Frank Zappa's bedroom before he was famous. In any case, it's instant art.
Want to Suggest an Apps Collection?
Is there a batch of apps you'd like to suggest for review? Remember, they must all be for the same platform, and they must all be geared toward the same general purpose. Please send the names of five or more apps to me, and I'll consider them for a future All Things Appy column.
Don't forget to use the Talkback feature below to add your comments.