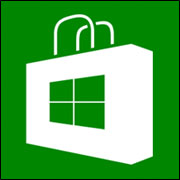 Money: It makes the world go 'round, as they say.
This week, All Things Appy takes a look at the five best free Windows 8 apps related to money. If you need to keep on top of your finances, these five are must-haves and will get the job done not just efficiently but, in all cases, elegantly, too.
About the Platform:Apps are available in the Windows 8 Store on your Windows machine. Click on the Start page tile labeled Store, and browse to the Finance category.
Alternatively, search by moving your mouse or finger into the bottom-right corner of the screen, and then choose the Search charm icon.
No. 1: All About Money

All About Money is rated 4 stars out of a possible 5 with 274 ratings in the Windows 8 Store.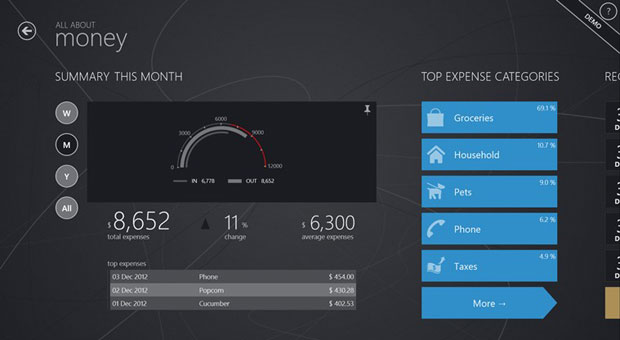 Add or import transactions in a comma-separated spreadsheet file and this app creates a summary of your position in a gorgeously Windows 8-esque interface from SilverOak.
Expenses can be categorized and sorted by top or recent expenditures; upcoming transactions and a quick-add panel add to the mix. It's an absolute pleasure to look at; if only the actual dollar amounts were as attractive.
No. 2: Yahoo Finance

Yahoo Finance is rated 3+ stars out of a possible 5 with 179 ratings in the Windows 8 Store.

A clear snapshot from all of the action in the markets with Windows 8 panel-based watch lists, top business stories, market movers and market data all in one place.
Customize a watch list by adding symbols or view a portfolio by setting up an account.
One reason TechNewsWorld liked this app is because it actually uses animated tiles on the Windows 8 start page — unlike most apps — and this one displays revolving market volumes and other rolling-style news.
No. 3: Fox Business

Fox Business is rated 3+ stars out of a possible 5 with 64 ratings in the Windows 8 Store.

The latest business news delivered in an app. Fox Business covers investing, personal finance, small business, tech and more. We are downgrading it and placing it in a runner-up position because it doesn't carry an in-app live Fox stream.
However, Fox Business does provide links to numerous snippets of Web-based video, which may be a more efficient way to digest stories that matter to you during the course of the day anyway.
No. 4: Bitcoin Miner
The Bitcoin Miner app is rated 4+ stars out of a possible 5 with 10 ratings in the Windows 8 Store.

Here's a way to make some cash — by dedicating your Windows machine to CPU Bitcoin mining when it's idle. Bitcoin is a virtual currency — a digital version of money — that you can use to trade for goods and services.
GroupFabric's Bitcoin Miner will let you join a pool that combines its computing power to make Bitcoins. This app is very simple to use, although it does need to run in the foreground.
No. 5: Mortgage Calculator by Quicken Loans
Mortgage Calculator by Quicken Loans is rated 4 stars out of a possible 5 with 17 ratings in the Windows 8 Store.

This mortgage calculator app is a blatant advertorial for Quicken Loans, and discounted in our results because of it, but it does have a functional mortgage calculator that works, and it includes realistic annual taxes and annual insurance fields.
If you want to figure a monthly payment and need an app to do it, this is simple and efficient solution.
Want to Suggest an Apps Collection?
Is there a batch of apps you'd like to suggest for review? Remember, they must all be for the same platform, and they must all be geared toward the same general purpose. Please send the names of five or more apps to me, and I'll consider them for a future All Things Appy column.
And use the Talkback feature below to add your comments!