Forget software, applications and programs. While you're at it, forget utilities — they'renow called "tools."
The future is apps, and Windows 8 is not going to be left out. Windows 8 has beendesigned for touch, yet many of us still use keyboards and mice.
Consequently, TechNewsWorld's No. 1 spot is dedicated to a tool for translating commands. Plus, we recommend a superb file explorer, an always-on clock and more.
About the Platform
Apps are available in the Windows 8 Store, which you can access by clicking on the Store tile on Windows 8's star page. Browse to the category you'd like to view.
Alternatively, search by moving your mouse or finger to the bottom-right corner of theWindows 8 screen, and select the Search charm's icon.
No. 1: Win 8 Tips & Tricks

The Win 8 Tips & Tricks app is rated 3+ stars out of a possible 5 with 44 ratings in theWindows 8 Store.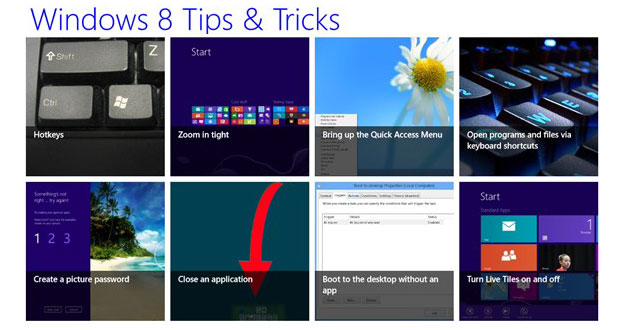 If you're feeling somewhat bemused by Windows 8's touch user interface, you're notalone. Conveniently, PranavTalwar has put together a compendium of workarounds, tipsand tricks to help navigate this touch-UI designed operating system with a mouse andkeyboard.
Non-touch instructions relating to hotkeys, zooming in tight, bringing up the quick accessmenu, using keyboard shortcuts, closing an application, and booting to the desktop are allcovered.
No. 2: File Brick

The File Brick app is rated 4 stars out of a possible 5 with 104 ratings in the Windows 8 Store.

Compal's File Brick takes the current Library and former My Documents concepts and mashes them into a beautiful tile-based interface that actually works. Once you've used it, you'll wonder how you put up with previous file explorer incarnations.
File Brick separates files into Local, Cloud and Neighbor. Cloud includes DropBox, SkyDrive and more, while Neighbor includes your local network.
No. 3: Asparion Clock

The Asparion Clock app is rated 4 stars out of a possible 5 with 74 ratings in the Windows 8 Store.

If there's one omission in this, the latest version of Windows, it's that there's no always-available clock. Earlier versions of Windows included a super-useful clock on the taskbar. That clock is still there in Windows 8, but you need to be in Desktop to see it.
Asparion brings an elegant clock to the Start page, appearing within a simple animated tile.
You have to awkwardly scroll around to find it sometimes — but at least there's now an on-screen Windows clock again.
No. 4: AppSwitch
The AppSwitch app is rated 4 stars out of a possible 5 with 10 ratings in the Windows 8 Store.

AppSwitch is designed to enable you to find Windows app equivalents to Apple iOS andAndroid Play apps that you may have become used to.
Click on the tile to launch the app, perform a search, and let the app find a match. Works well and includes popular searches for app ideas.
No. 5: Google Search
The Google Search app is rated 4 stars out of a possible 5 with 7,662 ratings in the Windows 8 Store.

Search Google with one click, or touch, from the rather dull static Google Start page tile, or within the Charms menu. The app includes access to your search history. This is simply a faster way to access a Google search.
TechNewsWorld places this app into a runner-up position though, because we'd like to see a more interesting animated tile, as well as history syncing across devices.
Want to Suggest an Apps Collection?
Is there a batch of apps you'd like to suggest for review? Remember, they must all be for the same platform, and they must all be geared toward the same general purpose. Please send the names of five or more apps to me, and I'll consider them for a future All Things Appy column.
And use the Talkback feature below to add your comments!