Young Kindle is getting a library card — at 11,000 libraries. Amazon announced Kindle Library Lending on Wednesday. The new feature, which launches later this year, will let Kindle customers borrow Kindle books from more than 11,000 libraries in the United States. Kindle Library Lending will work on all generations of Kindle devices and Kindle reading apps.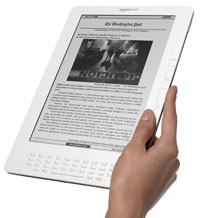 [Click Image to Enlarge]
Amazon is enlisting the help of OverDrive to bring the digital content to libraries.
Amazon's Whispersync technology allows readers to make notations and bookmarks on pages. The Kindle will save these notations in borrowed books to be accessed later if they're checked out again or purchased.
The Kindle Lending Library will fit into the existing OverDrive framework, Amazon spokesperson Kinley Campbell told TechNewsWorld, but the company declined to provide further information about the technical details of the program at this time.
Furthering the Kindle's Reach
Working with OverDrive could strengthen the Amazon's hold on the e-book market. That makes this is a sensible move for Amazon, Charles King, principal analyst at Pund-IT, told TechNewsWorld. "The Kindle is one of very few devices that isn't supported on OverDrive's platform. Its absence provides Amazon's competitors a point of differentiation — not a good thing in a tightening market for e-books."
With regular library books, you shouldn't write in the margins, but Whispersync lets customers make notations and save them for later.
"It's a good PR move, mostly," said King, "though there could be some related sales as well. I like the Whispersync feature/support, which would add to the value of eventually buying from Amazon a book you once borrowed from the library."
Libraries don't get talked about much in connection with ebooks, King noted, but they may provide an untapped swarm of e-book fans.
"The 11,000 branches — in the United States alone — provide a valuable interface between publishers and the reading public," said King. "Making e-books available on the market's preeminent e-reader should be good news for everyone."
This could be a way for Amazon to prepare for future e-book battles with other popular readers such as the iPad.
"This is a classic example of strategic market cultivation for Amazon and publishers, so its short term economic value is hard to quantify," said King. "In a publishing market that's under increasing stress, that could be considered a downside. Some may also see the move by Amazon as indicating the company is feeling growing pressure from tablets — especially the iPad."
Kindle Could Lock Down Libraries
The Kindle is one of the best selling e-readers, and Amazon's name is already closely associated with e-books. This move could further solidify its position.
"This was one of the primary reasons heavy readers that didn't yet have a Kindle had for not buying one," Rob Enderle, principal analyst at the Enderle Group, told TechNewsWorld. "Amazon wants to be THE company when it comes to e-book readers, and that means it can't just be for purchased content, but borrowed content as well. Eventually, they will have to deal with people that want to pass books around as well, though that is going to be a difficult balancing act."
There isn't much good in this news for book publishers, observed Enderle — except that libraries help to keep reading alive.
"I think most book publishers would just as soon have libraries as a concept become extinct, but that isn't happening," he said. "However, strategically there is a concern that reading will decline, and libraries are a lot of what keeps reading a viable market. By supporting libraries, publishers better ensure that there will be a need for books in the future."
With e-books, writers have the ability to deliver their books directly to their readers via downloads.
"E-books increasingly have me wondering whether publishers won't go into somewhat of a decline as writers increasingly bypass them," said Enderle.
There's not much of a downside to Amazon's move, apparently.
"It isn't like libraries can have rights to release unlimited copies of a book," said Enderle. "They will have rights to a few copies which, for popular books, will have long waiting lists — and that likely will help fuel feeding frenzies on hot titles."
In order to succeed, Amazon will have to get the technical details right. While Amazon has not made those details public, they may already be tamped down.
"We'll see how this works out," said Enderle. "The mechanics will be critical, but I generally think this is good for Amazon, certainly keeps libraries relevant, and it doesn't create any more risk for publishers than the e-book trend does alone."