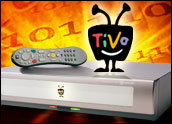 If hours of prerecorded TV content aren't enough for TiVo subscribers, Amazon will offer a solution. The digital video recorder (DVR) pioneer and the supersized online retailer announced their new "Amazon Unbox on TiVo" (AUT) service Wednesday.
For Amazon, the joint venture provides a captive audience more than one million strong.
For TiVo, the service adds another compelling feature to the device. However, will it attract new users? Will it be enough for a company that has all but been shut out of the market it created?
More Movies
Currently still in beta testing, AUT will "be available soon" for TiVo's 1.5 million users with broadband-ready TiVo boxes, according to the company. Subscribers will soon be able to use the Amazon Unbox video download service to rent or purchase a wide selection of movies, television shows and other videos, and download them directly to their TiVo box for playback on a standard TV.
"TiVo is taking the best way to watch TV and making it the best way to get popular movies and television shows from major Hollywood studios," Tom Rogers, TiVo's chief executive officer, said. "Now, TiVo subscribers can rent and purchase movies and TV shows and download them to their television set."
In order to activate the service, TiVo subscribers will need to log on to Amazon and register their set-top box. This will create a link between their TiVo Series 2 or Series 3 broadband-connected box and their TiVo account.
Once that step is complete, users can download eligible "Amazon Unbox" movies to their PC or TiVo box. The movies will automatically appear in the TiVo "Now Playing" list.
Television episodes such as "CSI:Miami," "24" and "All of Us" are available for US$1.99 per download. Movie purchases range from $9.99 to $14.99 for movies such as "Something's Gotta Give," "Hollywoodland," and "Saw III." 30-day movie rentals are also available, starting at $1.99. There is no extra cost for the direct-to-TiVo download.
Taking a Shot
TiVo has always pushed the envelope with new video distribution, viewing and business models, according to Kurt Scherf, principal analyst at Parks Associates.
Offering the service exclusively to its standalone users, however, creates a difficult challenge for the company. TiVo could see some success, though, because it is attempting to fill the void separating Internet video and the TV set.
"We're not looking at tens of millions of households with this type of availability, but one key variable that TiVo is trying to capture is the disconnect between the video that is available on the Internet and the lack of a truly easy way to get that video over to the television," Scherf said.
The major impact of the deal is that it moves technology one more step forward toward the convergence of the Internet and television sets. Aside from iTunes, online distribution sales have been lackluster. Movie download sales totaled about $250 million, while DVD rentals and sales ran into the tens of billions of dollars, Michael Goodman, analyst at Yankee Group, told TechNewsWorld.
"Yankee Group research shows that only 9 percent of broadband households are interested in downloading movies to their PC," Goodman explained. "When asked about downloading to TVs, 40 percent of people say they are interested. That bridge to watch a movie download on TV is absolutely critical."
Crowded House
However, the move is "too little, too late" for the DVR creator, according to Goodman. TiVo is trying to evolve their product from just a DVR to a media extender. However, Goodman explained, the space they are trying to evolve into is very crowded.
"The market has passed TiVo by," he said. "This is a move by TiVo to make themselves more relevant in the marketplace. They defined what a digital recorder is, and for a while they owned that space, but that market has passed them by. What we are probably going to witness is the slow demise of TiVo."
"TiVo has become a verb in two senses," Parks' Scherf said. "One is to record programming and the other is to lose in a market you developed."
Scherf believes the company could still have a little kick left in it if it gave up on the hardware market and instead concentrated on licensing its technologies.
"The hardware market is tough and could see them exiting that sooner rather than later and focusing on the software and other types of intellectual property development they have in place," he said.