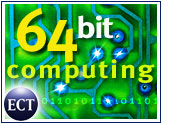 AMD has announced groundbreaking on a new manufacturing facility in Dresden, Germany, that will help the company keep up with what it claims is growing demand for 64-bit chips.
The Sunnyvale, California-based chipmaker, which announced a significant deal to put its 64-bit Opteron processors in Sun servers earlier this week, said the fabrication facility — or fab — will employ 1,000 engineers and technicians to produce future generations of AMD products.
"Positive customer response and increasing momentum for our AMD 64 processors make it clear that the time is right to expand our manufacturing capacity in order to effectively meet future demand," said AMD president and CEO Hector Ruiz.
However, Gartner vice president Martin Reynolds said the timing of the fab construction might have been better suited to last year so that AMD could take advantage of it to exploit its present 64-bit success with the Athlon and Opteron processors.
"It would have been nice if they had done it a year ago," Reynolds said. "AMD often ends up being production-constrained when they have a new processor."
64-Bit Push
By combining next-generation 64-bit computing capabilities and backward compatibility with today's common 32-bit systems, AMD said its push into enterprise computing is gaining traction with the help of workstation solutions from manufacturers such as Fujitsu and Siemens.
More significantly, AMD has won over IBM and now Sun to its 64-bit Opteron processor, which will ship with 64-bit-capable Solaris servers in the first half of next year.
The company said it expects its new fab will be in volume production in 2006 and will produce future versions of AMD products using the third generation of its "automated precision manufacturing" technologies.
Supply and Demand
IDC senior analyst Shane Rau said AMD is responding to increased demand that is occurring for nearly all processors, not necessarily 64-bit chips exclusively.
"We are seeing increasing demand for microprocessors in general, which is in keeping with growing demand for PCs, demand that we expect to continue to see through next year," Rau told TechNewsWorld.
Linking this week's announcement of the Sun deal with the plans for a new fab, Rau said the two are of equal significance.
"One reflects a source of demand and one a source of supply," he said.
New and Needed
Gartner's Reynolds agreed that next-generation 64-bit computing had less to do with increased demand than interest in AMD's latest chips.
"It's not so much 64-bit as it is AMD's next-generation chip — which is better, faster and more efficient," he said.
Reynolds, who said he would not be surprised if AMD moved up its initiative to make all of its processors 64-bit by 2005, added that the company is investing in future production, a necessary step in its ongoing battle with Intel.
"You have to make these types of investments to stay in the game," Reynolds said. "Intel sets a terrible pace for any competitor, not only in technology, but in production and manufacturing."
Sweet Deal
AMD's "ticket to play," as Reynolds called the planned fab, will cost the chipmaker US$2.4 billion over the next four years, according to the company.
Dubbed AMD Fab 36, it will be located adjacent to an existing AMD fab in Dresden and will take advantage of financial incentives offered by the government there.
"By building in Dresden, we are able to leverage the outstanding capabilities of our existing AMD Fab 30 and gain access to the most substantial government-backed financial incentives package available to us," said AMD CFO Bob Tivet. "We believe AMD Fab 36 offers the best solution for meeting future customer demand while advancing long-term shareholder value."