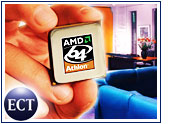 Today AMD announced what the company is calling a "technology milestone" — the completed design of its AMD64 dual-core processors. AMD plans to deliver dual-core products to the x86 server market in mid-2005 and introduce dual-core solutions for high-end client PCs in the second half of 2005.
AMD has been developing its multicore processors for several years. Since the AMD64 platform was first discussed publicly in 1999, AMD indicated that its AMD64 technology would support multiple-core processors. As more providers join the AMD64 ecosystem, the industry is approaching the day when 32-bit-only systems or 32-bit-only dual-core processors will become obsolete.
"Because AMD has always listened to our customers, we anticipated an industry shift toward multitasking applications requiring the scalability that only 64-bit dual-core processors can provide," said Dirk Meyer, executive vice president in the computation products group at AMD.
"That is why years ago we designed AMD64 technology from the ground up to be optimized for multiple cores."
"Dual-core, industry-standard processors are perhaps the most important direction as customers require the best price-performance in their systems going forward," said John Fowler, executive vice president of Network Systems, Sun Microsystems. "Since we first carefully reviewed AMD's plans in 2000, we have been impressed with their focus on high-performance, efficient computing and commitment to chip-level multiprocessing."