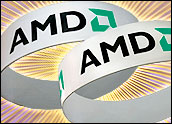 AMD announced the release of its latest round of Phenom II microprocessors Monday. The five new additions include both triple-core processors and quad-cores that are part of AMD's "Dragon" platform line of desktop PC chips announced last month.
Among AMD's offerings are three quad-core and two triple-core processors, marking first time the chipmaker has rolled out a triple-core processor for the Phenom II line. The 2.5-GHz Phenom II X4 805; the 2.6-GHz X4 810; the 2.6-GHz X4 910, the 2.6-GHz Phenom II X3 710 and the 2.8-GHz X3 720 include 45-nanometer architecture, up to 2 MB total dedicated L2 cache, and between 4 MB and 6 MB L3 cache, as well as AMD's HyperTransport bus.
"AMD has continued to show a cleverness that is admirable. Derided by its competitors and smeared with innuendo about their financial condition, the company has continued to deliver innovative solutions at aggressive prices. I call that plucky, and it matches the personality of the CEO," Jon Peddie, president, Jon Peddie Research, told TechNewsWorld.
Three of a Kind
Triple core is a cost-effective solution for consumers who do video and photo processing and play demanding CPU-bound games, noted Peddie.
"They are a derivative product from AMD — basically four-core processors that had a failure in one of the cores, and rather than just toss them in a trash can, AMD is harvesting them for alternative use. It's clever, it saves AMD money, and it provides a great price-performance point for consumers.
Although AMD's original production of its triple-core processors began as a way to avoid tossing the chips in the trash bin, now the company is leveraging its triple-core chips in order to offer original equipment manufacturers (OEMs) and consumers a processor with higher performance capabilities than a dual-core and a lower price than a quad-core.
"It creates an opportunity for AMD to have a price point that's very aggressive against an Intel quad-core. It's better than a dual and cheaper than a quad. The interesting part is that they no longer rely on failures of quads — they actually make the triples exclusively," Roger Kay, president, Endpoint Technology Associates, told TechNewsWorld.
The OEMs also receive a benefit from the production of the triple-core chips, Ian Lao, an InStat analyst, told TechNewsWorld.
"It gives them the ability to have a product SKU that meets consumers' needs. In this economic downturn, everyone seems to be down trading one step. A lot of people are downshifting one step, and the biggest advantage is that they now have a product choice that is available to service that space."
'Hardball in 2009'
As the economic downturn continues to impact sales of PC chips — sales in 2008 dipped by some 2.8 percent, and a larger decline is expected in 2009 — AMD has also announced an 18 percent price cut for the Phenom II line of processors.
For the triple-core chips, prices start at US$125 for the X3 710 and $145 for the X3 720. The quad-cores are priced at $175 for the X4 810, $195 for the X4 920 and $225 for the X4 940 "Black Edition."
"AMD is playing hardball in 2009. First, to maintain its own business but secondarily to force Intel to do something — cut prices — that will make it uncomfortable," he told TechNewsWorld.