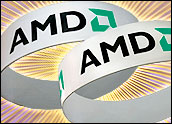 AMD announced the release of its Radeon HD 3870 X2 graphics card Monday. The company's latest offering, courtesy of its 2006 ATI acquisition, combines two ATI Radeon 3870 chips on a single graphics board, connected via an integrated CrossFire technology.
The double-barreled approach makes AMD the first graphics technology provider to "break the Teraflop barrier," according to the company. The card is the first graphics processor for "enthusiasts" that uses the 55 nanometer (nm) process technology, according to AMD — a big plus for hardcore PC gamers.
Two Chips in One
With the launch of the Radeon HD 3870 X2, AMD has taken what previously had been accomplished by installing two individual graphics cards and instead doubled up the 55nm chip and put both chips on a single card.
"They're taking that two-card system and putting it down to one card. So they're building a single card design that has two chips on it. It can deliver performance much like a two-card system would have delivered in the past," said Martin Reynolds, an analyst at Gartner.
PC gamers can expect performance levels to increase roughly twofold, although that will depend to a certain extent on the application.
"It depends on what you're doing, but I'd say you probably do [get twice the performance]. It is pretty close if it is not, and it depends on the application. Usually something like this lets you get higher resolution and higher performance. You probably get more yield on the resolution than performance," Martin told TechNewsWorld.
The card, which supports Microsoft's upcoming DirectX 10.1 specification, expands "the visual boundaries of PC entertainment well beyond the 1080p high-definition threshold," the company said.
"More cores equal more resolution or speed. I think that you get better yields from using the cores for more resolution, as opposed to using them for more speed. Although, in a practical sense, the maximum resolution is 1200p because of the displays," Martin explained.
Keeping Up With Nvidia
Although Nvidia, AMD's archrival in the graphics card space, does not yet have a similar offering, Martin said it would be easy for the company to come up with its own double-up card. What the technology provider may struggle with is matching AMD's bargain price of US$449.
"$449 is pretty aggressive, and that's less than you would pay for two cards. Of course, it allows AMD to deliver a performance point that is well above anything Nvidia could do with a single chip," he pointed out.
"Any of Nvidia's OEMs (original equipment manufacturers) could do the same kind of thing. The challenge they will face is that Nvidia will have to price the chip to work in that environment. Because AMD owns the chips and cards, they can price the thing a little bit lower and get that extra performance out without losing money elsewhere. If Nvidia does the same thing, they run the risk that the buyers will take the chips sold as a pair and break them up into individual cards," Martin continued.
Martin called the introduction of the Radeon HD 3870 X2 a "clever thing to do that is a good move in the market for them" because the new card helps AMD improve its perception in the market. However, he expects Nvidia to respond "fairly quickly over the next few months" with their own offering.
"It's unlikely to be a mainstream product. It's not going to be in every system. It will be in a few high-end enthusiasts' systems, but it brings them some brand and thought leadership. This isn't going to be a big bump to their revenue. But it sure is an interesting product that will get people thinking about AMD, because AMD has lost a lot of interest over the past year. Anything they can do to recover that is good news," Martin concluded.