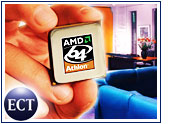 AMD today announced that it will introduce a new brand of PC processors to be named AMD Sempron. The company hopes the AMD Sempron processors will raise the computing bar for today's value-conscious buyers of desktop and notebook PCs.
According to the company, the AMD Sempron processors are being developed to meet the evolving day-to-day needs of home and business PC users who do not demand high-end processing power but who want to do basic computing more quickly.
Basic computing is no longer just about e-mail, Web browsing or word processing, said AMD. Today it's also about downloading and playing music, or sending pictures to family and friends. According to AMD, the Sempron processors will be tailored to these needs.
"AMD is changing the name of the game for everyday computing. We have responded to evolving customer needs with a compelling solution that delivers the performance needed for today's applications," said Marty Seyer, vice president and general manager of AMD's microprocessor business unit.
"The AMD Sempron brand is expected to carry on our tradition to always strive to provide our customers more value."
Sempron for Second Half of 2004
More details about AMD's new mobile and desktop processors will be forthcoming in the second half of 2004. Shipments of the AMD Sempron and Mobile AMD Sempron processors are scheduled to begin during the second half of 2004.
AMD Athlon 64 processors will continue to be offered for 64-bit applications, particularly the upcoming Windows XP Service Pack 2.
Likewise, AMD Athlon XP processors for desktop PCs and Mobile AMD Athlon XP-M processors will continue to be offered for those customers seeking advanced functionality and performance for mainstream home and office computing.