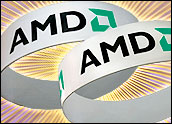 AMD announced Friday that it will begin shipping its quad-core Opteron processor, dubbed "Barcelona," in August. Enterprise-level server manufacturers including Sun Microsystems have committed to using the standard and low-watt special edition (SE) versions of the chip, giving the chipmaker a much needed boost against archrival Intel and its Xeon 5300 Clovertown quad-core chip.
"Barcelona represents a very important product for AMD," Shane Rau, an IDC analyst, told TechNewsWorld. "AMD's poor overall showing in [the first quarter of 2007] was partially due to Intel's recovery in the server processor space. After [the second quarter], we'll begin to see if Barcelona can stabilize AMD's server processor business."
The chip also marks the first time AMD will have produced both standard and low-power parts that are immediately available upon the launch of a new processor.
Barcelona Games
Previously called the "Quad-Core Opteron," Barcelona is the world's first x86 CPU to integrate four processing cores on a single die of silicon, according to AMD. The enhanced architecture enables the processor to deliver improved performance and performance-per-watt over existing processor architectures while at the same time offering backwards compatibility with existing AMD Opteron platforms, the company said.
Initial models, available in August, will run at a range of frequencies up to 2.0 Ghz. By the fourth quarter of 2007, the company said it expects its native quad-core processors to scale to higher frequencies in both standard and SE versions.
"Barcelona represents very high levels of integration," Rau noted. "It has four processor cores, three levels of cache and an onboard memory controller, features which illustrate how far process technologies have come."
Efficiency Counts
The chip, designed to operate within the same thermal envelopes as present generation AMD Opteron processors, can provide a performance increase of up to 70 percent on certain database applications and as much as 40 percent on certain floating point applications, AMD estimated. Subsequent higher frequency processors are expected to greatly add to this performance advantage, the company added.
"More than ever before, customers are expecting energy efficiency and performance-per-watt leadership as much as absolute performance. With this new reality of computing, greater performance at the expense of greater power consumption is no longer an option," said Randy Allen, corporate vice president of the server and workstation division at AMD.
"AMD has prioritized production of our low power and standard power products because our customers and ecosystem demand it, and we firmly believe that the introduction of our native Quad-Core AMD Opteron processor will deliver on the promise of the highest levels of performance-per-watt the industry has ever seen," he continued.