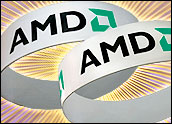 AMD announced Thursday the release of its triple-core Phenom processors, the X3 8000 series. A first for the PC industry, the triple-core chips are aimed at gamers and digital media enthusiasts for whom performance and price are paramount, the company said.
The Phenom X3 processors have been designed to enhance multi-threaded application performance over that of dual-core processors while maintaining the same clock speed, according to the chipmaker.
The two triple-core chips are among seven new Phenom-branded chips AMD made available Thursday. The release of these new processors is part of a push by AMD to provide low-cost, high-performance chips to the mainstream PC and server markets.
Triple Threat
First announced in September 2007, with the X3 8400 (2.1 GHz) and X3 8600 (2.3 GHz) triple-core processors, AMD has simply turned off the fourth core. That enables the company to carve out a space in between the dual-core and quad-core segments, on which archrival Intel has concentrated its efforts.
"The triple-core is actually a very good concept for them. It allows them to do a couple of different things," said Ian Lao, an analyst at InStat.
From the product positioning side, AMD now has an offering in between the dual- and quad-core. For customers who may find a quad-core chip outside their budget but who may not be satisfied with a dual-core's performance, the triple-cores could offer the performance boost they need, he explained.
"It's a really good move as far as trying to slot product in in a new way," Lao told TechNewsWorld.
Triple-Tasking
When the X3 series chips are paired with the AMD 780 series chipset, the company said, the processors can improve performance to such an extent that everyday PC users can enjoy an entirely different experience while gaming and viewing high-definition content, including lifelike 3-D graphics and dynamic interactivity in the latest game titles.
For users without a dedicated accelerator built into their machines, certain applications such as multimedia content run entirely on the core. One of the original concepts behind a dual-core processor was that systems could process the audio on one core and the video on another if done purely on the software rather than using a hardware accelerator, Lao said.
"Just extend that concept out. Now I can do something else in Excel or Powerpoint while I have my music running in the background," he pointed out.
AMD has not released pricing for the triple-core processors but has partnered with ZT Systems to debut the first machines sporting the new X3 processors.