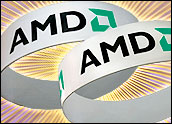 AMD on Tuesday introduced its latest motherboard GPU (graphics processing unit), the AMD 780 Series, in Hanover, Germany, at CeBIT 2008.
Styling it as the most advanced motherboard GPU in the industry, AMD said the platform is intended to provide a "rich computing experience" for both casual gamers and multimedia enthusiasts running mainstream, low- and mid-cost PCs.
"Starting today, consumers can attain superior HD (high-definition) video and casual 3-D gaming experiences, as well as remarkable energy efficiency," said Phil Eisler, corporate vice president and general manager of AMD's chipset division.
Systems containing the new hybrid GPU platform will be available during the second quarter of 2008.
Mainstream Gamers Take Note
The RS780G chipset is a core platform component that — when paired with AMD's Phenom 9000 series-quad core processor or Athlon 64 X2 dual-core processor — can significantly enhance the gaming and high-definition experience of so-called mainstream PC users, according to AMD.
It is the first chipset to provide DirectX 10 game compatibility for improved game performance, lifelike 3-D graphics and dynamic interactivity. Its hybrid graphics technology combines the graphics power of both a discrete graphics card and the motherboard GPU, enabling it to deliver some applications with up to 70 percent better 3-D performance, according to the company. As a second-generation AMD chipset featuring AMD Overdrive, it boasts a simple user interface for fine tuning.
In addition, the platform offers support for HD formats, such as VC-1, MPEG-2 and H.264, AMD said. The 780G also features AMD's Unified Video Decoder, which steers HD playback to the GPU instead of the CPU (central processing unit) for a smoother viewing experience. PCs including the chipset should also be able to support a range of video interfaces, including DisplayPort, DVI (digital video interface), and HDMI (high definition multimedia interface) as well as AMD Surroundview for use with multiple monitors.
The GPU is also more energy efficient than its predecessors. The 780G delivers 55 nm technology for optimal power management while idling, playing DVDs or performing other tasks.
"The really cool thing from the consumer aspect is, this is one of the first chips that will have true DisplayPort, as well as HDMI and DVI capabilities," said Ian Lao, an analyst at Instat.
"This guy can potentially sit down in parallel with a discrete graphics card. So you'll have the chipset with the integrated graphics in it and you'll also have the graphics card. Traditionally, once you had integrated graphics you couldn't really do the multi-GPU implementation. That's one of the really cool things about their hybrid scheme," Lao noted.
Chipping Away at the Competition
Conceptually, the hybrid graphics approach in nice — as long as it works well and is seamless to the application or game, said Mark DeLoura, a video game technology consultant.
"I can imagine perhaps on a laptop using a similar approach to enable high-performance but more power-hungry graphics, in the case that you're plugged into a power socket," he told TechNewsWorld.
Updating its motherboard chipset was "definitely a smart" move for AMD, according to DeLoura, because "there is a lot of money in on-board graphics chips.
"Frankly, it is probably a bigger market than chips for graphics cards for the enthusiasts market — if they have success with it," he pointed out.
"Getting their chips into motherboards of systems from major computer manufacturers — like Dell or HP — would be a great move for them, and if the hybrid graphics technology means that the end-user gets an extra performance boost by adding an AMD graphics card versus an Nvidia one, it could encourage their add-in graphics card market as well. Smart move," DeLoura added.
Lower Costs, Upping Performance
According to Lao, the new platform will be available to consumers looking to purchase a system with a mid-range price, between US$700 and $1,400.
"This thing has way too much horsepower performance for the $200 to $300 desktop or $400 laptop. That level of application wouldn't likely be willing to pay for that," Lao told TechNewsWorld.
From the perspective of OEMs (original equipment manufacturers), the 780G may be a solution for lower costs.
"From the OEM point of view this is a very, very good solution because it lets them offer more to the consumer without them significantly increasing their bill of materials, or alternatively lower their bill of materials cost and offer the same level of performance," Lao explained.
"It's AMD doing an 'Incoming!' to Intel," he added.