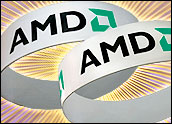 With the PC graphics market flatlining, AMD announced on Tuesday that it has developed a new outlet for its graphics core technologies. The new enterprise will focus on the development and licensing of "leading-edge graphics core technologies" to semiconductor manufacturers in the handheld industry.
The new venture stems from the company's commitment to bring "the ultimate visual experience" to a wide spectrum of devices, from the PC to an array of handhelds, according to AMD. In 2007, consumers around the world will purchase more than 1 billion handheld devices for which there is an increasing demand for "visually compelling content," the company said.
"AMD has been developing graphics technology for PCs and video game consoles for more than 20 years, and has shipped more than 200 million AMD processors for mobile phones," Pal Dal Santo, vice president and general manager of AMD's handheld division, said. "This uniquely qualifies AMD to work with OEMs and other semiconductor suppliers to bring to market handheld devices capable of delivering the ultimate visual experience."
Multi-Dimensional View
AMD's licensing initiative incorporates the company's engineering expertise, AMD's graphics technology, as well as application developer and publisher support for the development of low-power 2-D and 3-D graphics on mobile phones.
The processor maker anticipates that new handheld devices developed using AMD graphics technology will "reach a large audience of customers who want to enjoy stunning user interfaces, immersive 3-D games and dynamic multimedia content."
STMicroelectronics is one of the first to license AMD's graphics technology, including 2-D, 3-D and vector graphics core engines along with related software compliant with OpenGL ES 2.0 and OpenVG 1.0 standards. The firm plans to incorporate AMD's handheld unified shader architecture graphics technology into its line of Nomadik multimedia application processors used in 3G mobile phones and PDAs.
Small Victory
Changing its business model is a must for AMD and its arch nemesis in the graphics technology field, Nvidia, according to Gartner analyst Christian Heidarson. With the PC market flat and lacking room for further growth, the outlook for graphics firms is grim. "They both have to move outside of the PC market," Heidarson told TechNewsWorld.
The mobile phone space, Heidarson explained, is perhaps the best chance for AMD and Nvidia because they can take advantage of the licensing side. AMD has won a small victory, but it is still fighting an uphill battle against 3-D graphics industry leader Imagination Technologies. "Nomadik is a very small step for AMD," Heidarson said.
"[Imagination] is a leader by many, many years," Heidarson continued. "AMD and Nvidia are playing catch-up here. [The two companies] will find it difficult to attack the mobile phone arena with their usual chip strategy."