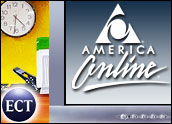 AOL, the Internet company struggling to shed its desktop days and move further into the more profitable mobile and wireless industry, continued its mobile-by-acquisition strategy this week, announcing it was acquiring handset software maker Wildseed.
Terms of the deal were not disclosed, but AOL made no secret of its intention to use the company, along with other acquisitions that include Xdrive, Mailblocks and Tegic, to deliver its interactive services to mobile devices.
"Data-related mobile technologies are on the cusp of mainstream adoption," said a statement from America Online Chief Technology Officer John McKinley.
Taking It to Go
AOL indicated that Kirkland, Wash.-based Wildseed — known for its SmartSkin interactive accessory software for handsets — would be a key part of its AOL Wireless division and would speed software solutions, communications and content services to wireless carriers and handset manufacturers.
"The wireless industry is focused on bringing additional rich media experiences and a new generation of interactive services to the mobile consumer, and we are committed to being a leader in that arena," McKinley said.
AOL indicated its AOL Wireless unit will be headed by AOL Wireless General Manager and Senior Vice President Craig Eisler, while Wildeseed employees and operations would be integrated into AOL's Seattle offices, with Wildseed CEO Eric Engstrom serving as AOL Wireless senior vice president of wireless products.
Thwarting Cannibals
Yankee Group senior analyst Laura DiDio told TechNewsWorld that businesses, particularly AOL, are being forced to diversify to avoid extinction.
"Companies can no longer rely on a single, or even dual strategy," she said. "You need plan A, B, C and D, because everybody is cannibalizing everybody else's markets."
DiDio indicated AOL's acquisitions make sense, as the mobile market is a natural extension of the consumer market, where AOL has strength but faces competition from huge competitors.
"They have to be aggressive, because if they aren't, somebody else will be," she said.
Boosting Potential
Ovum Vice President of Wireless Telecoms Roger Entner said AOL's Wildseed acquisition was interesting and highlighted the significance of AOL's mobile and wireless strategy.
"I think it's a stronger foray of AOL into the wireless arena now that they basically have their own handset options," he said.
Entner indicated that while AOL has seen a mass exodus from its once-leading Internet service, Wildseed had also struggled to gain market acceptance and wireless carrier partnership.
Regardless, Entner said the move is squarely aimed at younger consumers, who have popularized other AOL technologies such as AIM instant messaging.
"Youth is the primary segment here that needs to be served and will be served by [the acquisition]," he said.