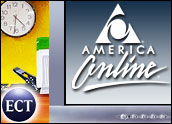 AOL bolstered its Open AIM initiative by adding new features and functionality to the instant message (IM) technology, and supporting new platforms Mac OS X, Linux, Pocket PC and Java.
The Dulles, Va.-based company, which launched the Open AIM initiative last spring to spur development and use, said there are some 45,000 software developers working on its free instant-messaging platform.
The company is updating support for bots — which respond automatically to instant messages to broaden communications for developers, marketers, and others using IM — and other functionality, including location-based services and PC-to-PC voice calling.
Bots and Bits
AOL is adding the necessary components for AIM to remain competitive, and the ability to customize software around Open AIM may make the IM solution more appealing to enterprises, Basex CEO and Chief Analyst Jonathan Spira told TechNewsWorld. However, whether or not AIM developers are able to take advantage of the new tools and support is another matter, the analyst added.
"The question is more now that you can use AIM in conjunction with Microsoft Live Communications Server LCS and Microsoft Communicator, which way will companies go?" Spira said.
AOL said the AIM software development kit (SDK) had drawn thousands of developers since its release in March. The initiative is aimed at allowing companies, communities and developers to build custom IM plugins, communications, and communication technology mixes, known as "mash-ups," for AIM, a public IM platform that boasts 43 million users in the U.S., according to comScore Media Metrix.
"Today, we are extremely pleased to add AIM bots as well as voice and location services to the Open AIM toolkit, and to invite developers on the Mac, Linux and Pocket PC platforms to get involved," said AOL Vice President for Instant Messaging Marcien Jenckes.
The new AIM bots, dedicated Screen Names of AIM users, respond automatically to IMs they receive, and can maintain IM conversations with multiple users, as many as 10,000 per day, according to AOL. The company said the AIM bots cannot initiate IMs without permission, to prevent spam, and those seeking higher volumes could contact AOL about commercial support.
Keeping Current
AIM also now supports location services, with new application program interfaces (APIs) that allow developers to build location services into clients, plugins, and eventually Web sites.
AOL said developers will now be able to add PC-to-PC voice functionality and multi-party voice chat into their customized AIM clients using the open source sipXtapi SIP stack, from sipfoundry.org.
The new features and platform support are simply AOL's effort to continually improve the popular IM offering, according to Spira. He said much of the new functionality is now standard in any IM that is competitive in the market.
"Everyone involved in IM has to have voice functionality and multi-person voice chat," he said. "That's no longer a nice to have, it's a necessity."
Credibility, Usability
With the overwhelming majority of enterprise IM use done via public message networks such as AIM, Open AIM goes a long way to making public IM use more palatable to enterprise buyers, according to Spira. He added enterprises may also opt for more advanced solutions such as Microsoft's LCS or IBM's Lotus Sametime, which are not free.
He said AOL was likely to broaden AIM development by offering support for the other platforms, and support for Linux would help win some credibility for the company among open source developers.
Spira said while the customized bots and other features may make AIM more attractive to corporate users, it remains to be seen whether developers can leverage the technology.
"If people figure out and use the bots, that would definitely enhance the product," he said, adding that despite such bells and whistles, most IM users stick to single message communication.