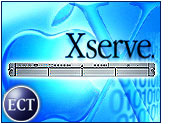 Apple Computer set its sights even more squarely on supercomputing and distributed grid computing this week with the preview and beta release of its Xgrid technology designed for scientists and their compute-intensive environments.
Apple's announcement of the technology, available as a free beta download from the Cupertino, California-based company's Web site, highlights the trend among scientific and other ultra high-end computing users of moving from single, powerful mainframe computers to distributed grids that can maximize computing resources.
The model has proven successful for researchers at Virginia Tech, where 1,100 Power Mac G5 computers were clustered together to build one of the world's fastest supercomputers for far less money and in far less time than the traditional approach.
Apple said that in Xgrid, its Advanced Computation Group (ACG) produced a computer-clustering technology designed to take advantage of unused computing capacity to run batch and workload processing by creating a "grid-enabled virtual IT environment."
Mac Plus Cluster Equals Supercomputer
Apple, which released the Xserve G5 server in conjunction with the Xgrid clustering technology, referred to Xgrid's role in projects at Virginia Tech, NASA, Simon Fraser University, Reed College and Genentech.
Apple said Xgrid brings its trademark ease-of-use characteristics to computational clustering that will run compute-intensive applications using its Rendezvous networking technology.
"Xgrid makes it easy to turn your Mac cluster into a supercomputer," said Apple senior vice president of worldwide product marketing Philip Schiller. "The new Xgrid software agents use Apple's breakthrough Rendezvous networking technology to automatically discover, connect and manage tasks across available systems in a Mac cluster."
Customizing the Grid
Virginia Tech College of Engineering dean Hassan Aref told TechNewsWorld that custom software helped the school's Mac cluster run its big jobs, which include research on nanoscale electronics, quantum and computational chemistry, aerodynamics and molecular modeling.
Apple said its Xgrid software ships with built-in support for a popular gene-sequencing application known as Blast and also will come with a software developer kit designed to help users port custom, compute-intensive applications to Xgrid.
At gene researcher Genentech, the Xgrid was used to query DNA sequence files against multigigabyte genomic databases on a cluster of four dual-processor Xserves, according to executive vice president of research Richard Scheller.
Xgrid also was tested at NASA Langley Research Center in Hampton, Virginia, to run jet-noise-prediction code on a distributed cluster of Power Mac G5 and G4 and Xserve G4 systems. The system built from eight G4 and two G5 processors delivered performance of approximately 32 gigaflops, Apple said.
Meant for Management
While there is recognition in the scientific research community and wider IT industry that distributed grid computing might be a more efficient, economical way to achieve supercomputing performance, management of resources remains the biggest challenge, Yankee Group senior analyst Dana Gardner told TechNewsWorld.
Xgrid can run and manage servers in industry-standard racks in clusters of as many as 84 PowerPC G5 processors — which would create a supercomputer with 1.5 teraflops of processing power. "The Xgrid Console has an intuitive Aqua interface that makes it easy to execute Unix commands, run shell scripts or feed applications across a cluster," the company said.
Gardner said the distributed-computing model, as well as the proven viability of the PowerPC G5 processor architecture, makes increased use of it in clustering highly likely. "There's no reason why it wouldn't be a clear alternative to other architectures," he said.