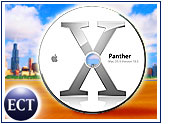 Touting more than 150 new features — including improved interoperability with Windows and Linux — Apple has announced that its updated Mac OS X Panther operating system will be available on October 24th.
The Cupertino, California-based company said Mac OS X version 10.3 delivers new features that will not be available in a Windows operating system for years to come. These technologies include a faster, revamped Finder interface for accessing files and folders and the new Expose technology to help keep the desktop organized.
Analysts viewed the new version of the Unix-based operating system — to be released with the Panther server — as a step forward for Apple, but said Panther probably will not help the company increase its small market share in the desktop computer and server markets.
"This [update to OS X] is plumbing, and it's hard to interest people in plumbing, but on the other hand, plumbing is important," IDC analyst Roger Kay told TechNewsWorld. "In terms of the market, [Panther] won't do much for Apple, but it's still a good innovation and shows they're still developing technology at a rapid pace."
Apple Ahead
Calling Panther "the biggest release of Mac OS X Server ever" and "a major release of the world's most advanced operating system," Apple is capitalizing on the wait for Microsoft's next major OS release — code-named Longhorn — Yankee Group senior analyst Laura DiDio told TechNewsWorld.
Apple CEO Steve Jobs said Panther sets "the new gold standard for operating systems" and declared the software is "delivering innovations today that will not be seen in any other operating system for years to come."
Referring to the latest engineering moves that Microsoft has made with the Windows XP update system, Kay questioned Apple's claims but indicated the company did bundle a lot of changes into the Panther version of Mac OS X.
Faster Files
Apple highlighted Panther's completely redesigned Finder service, which the company said is as much as six times faster than the Finder in Mac OS X version 10.2, a version of OS X known as Jaguar.
The new Finder, according to Apple, will give users better access to folders, servers and iDisk by enabling them to access these items through one location. Apple also said the new Finder will offer dynamic browsing of the network for Mac, Windows and Unix file servers.
DiDio, who cited bolstered remote management capabilities, ease of use and Windows integration as the biggest improvements in Panther, said the operating system does have "a lot of good shortcuts."
Working with Windows
Apple also touted Panther OS X as the first operating system from a major vendor to incorporate the Samba 3 open-source software designed to share file and print services with Windows clients. Windows users can authenticate against Panther Server directly from a PC login, and Panther can host Windows home directories and support Windows "roaming profiles."
Analysts agreed that increased compatibility with Windows networks is a key part of Panther because even basic network functions often require interoperability.
"The Mac is a better and better-behaved citizen in a Windows network," Kay said, referring to the ability to log on, communicate with Microsoft servers and share file and print resources. "The users of a Mac client aren't penalized so much."
Viewing and Videoconferencing
One other key enhancement to Panther is Expose, which allows users to view all open windows at once and choose any of those windows to be on top. Expose visually unshuffles overlapping windows on the desktop into an organized thumbnail view, so a user can locate and switch to any open window or access any file on the desktop.
Calling it "a breakthrough in working with multiple files, applications and projects," Apple said Expose is powered by the Mac OS X Quartz graphic engine.
DiDio, who said Panther is unlikely to win over Windows converts but will maintain Apple strongholds in education and art, questioned how much the Expose functionality will be used by Apple customers.
Apple also claimed it is extending instant messaging "to the next level" with iChat AV, a desktop videoconferencing system that offers full-screen, full-motion video over broadband.
"iChat makes natural conversations over the Internet immediate and effortless, and has been enjoyed by well over half a million beta users since its introduction in June," Apple said.