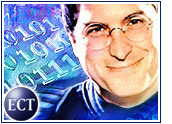 Moving the successful iTunes music download service from its own platform to the wide world of Windows, Apple this week entered a crowded marketplace that is still dominated by free peer-to-peer services.
Yet iTunes and other paid services, which differ only slightly in their rules for downloading, burning and transferring, take away file-traders' excuse that there is no legal alternative to music piracy. Now, it seems, there are too many legal alternatives to keep track of.
In addition to extending its 99-cent downloads beyond the Mac-user market, Apple announced an alliance with AOL that gives the Internet service provider's 25 million users the ability to register for iTunes with one click.
Yankee Group senior analyst Mike Goodman told TechNewsWorld that Apple might be able to tap a new market in AOL's less technical "newbie" user base. However, he said he doubts the deal will impact the world of illegal file-trading, which drew nearly 60 million users last year.
"I'm not so sure the agreement with AOL will do anything to stem file-sharing," he noted. "The AOL user is not the piracy music downloader."
Windows Wait Over
The past few months have brought a new crop of legitimate download services for Windows in the wake of Apple's success with iTunes for the Mac platform and the popular iPod player, which also comes in a Windows version.
Some analysts believe it is unlikely that any of the newer services — including BuyMusic.com, Musicmatch.com or the new pay-to-play Napster — will emerge dominant. There are those who believe that Apple is likely to see the same success it saw with iTunes for Mac, which has delivered 13 million downloads since its April launch, if the company can recreate the same experience for Windows users.
In announcing iTunes for Windows, which will offer more than 400,000 songs by the end of the month, Apple CEO Steve Jobs bragged of beating Microsoft to market with a product for the Redmond, Washington-based rival's own platform.
"While our competitors haven't even come close to matching our first generation, we're already releasing the second generation of the iTunes Music Store for Mac and Windows," said Jobs, who added that iTunes is probably the best Windows application ever.
With its digital jukebox, new audiobooks, title, artist and album browsing, free 30-second previews, celebrity playlists and other features, Jobs said he hopes iTunes will deliver 100 million downloads in the online music store's first year.
Ranked by Rules
In the marketplace for legitimately downloaded digital music, the various download business models likely will be differentiated by their digital rights management (DRM) rules. For its part, Apple offers the ability to burn songs to an unlimited number of CDs for personal use, to play on up to three Mac or Windows computers and to listen on an unlimited number of iPod players.
Goodman said Apple is among the most permissive of the services, but the limitations on trading among computers are still a sticking point for potential users of iTunes and other legitimate services.
"I do think the ability to move it from PC to PC is still the hole in these products because one thing consumers have shown is the desire to share music with their friends," Goodman said.
Alternative
With the recording industry showing its willingness to pursue individual file-traders who violate copyright law, online music fans might be more likely to pay for their playlists.
Goodman, who said Apple's control over copyright protection is somewhat diminished on the Windows platform that it does not control, said the AOL partnership could allow the technology companies to train users on legitimate services before they use broadband connections to swap files for free.
Still, Goodman said, the recording industry would be better off using DRM and other protective technologies instead of copyright enforcement tactics that alienate consumers.