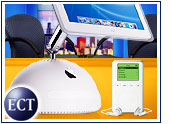 Timing technology updates with the start of school, Apple announced it has sped up its iMac desktop computers with faster processors and beefed up the storage in new iPod digital music players, which are now offered in 20- and 40-GB models.
Against a backdrop of lawsuits filed by the Recording Industry Association of America against more than 260 individuals accused of illegally swapping copyrighted songs, the company also touted the success of its iTunes Music Store, which recently sold its ten-millionth song.
The update to the iMacs — which Apple said now have faster processors, memory, graphics and input-output capabilities — is not a surprise, IDC analyst Alan Promisel told TechNewsWorld. "It's mostly just a scheduled speed bump or performance bump," he said. "There's nothing that exciting."
However, the success of iPod and iTunes and Apple's focus on making the desktop computer a media center make the Cupertino, California-based company's strategy a paradigm of what is to come, Yankee Group analyst Michael Kelleher told TechNewsWorld.
"I think that Apple has, for the better part of five years, looked at the media potential of devices," Kelleher said. "They've always sort of been ahead of the pack in design. Apple's really good at integrating its products. They provide a complete package — hardware, software and, to a certain degree, content."
Quickening iMac
For its iMac desktop computers, Apple incorporated faster PowerPC G4 processors running at 1.0 GHz in the 15-inch, flat-panel display model and at 1.25 GHz in the 17-inch model. Both iMacs have 256 MB of upgraded DDR SDRAM memory running at 333 MHz and 80 GB Ultra ATA/100 hard disk drives.
The iMacs, which ship with OS X Jaguar, iLife, iTunes and other productivity and entertainment software, also feature two FireWire 400 ports — as opposed to the faster FireWire 800 in Power Macs — and three USB 2.0 ports. The 17-inch iMac also features the Nvidia GeForce FX 5200 Ultra graphics processor with 64 MB of DDR video memory.
Calling it "the ultimate computer for working with digital photos, digital music and digital video," Apple said the faster USB 2.0 ports allow fast plug-and-play connections to digital cameras, digital video recorders, iPod music players and iSight videoconferencing cameras.
Priced at about US$1,300 for the 15-inch display model and $1,800 for the 17-inch model, the new iMacs also come with support for 54-Mbps AirPort Extreme 802.11g wireless networking and optional built-in Bluetooth for wireless connectivity to peripherals, including handheld devices.
Apple Sweet Music
Apple also is selling beefed-up iPods in 20- and 40-GB models, which sell for about $400 and $500, respectively. The company said the new 40-GB iPod can hold as many as 10,000 CD-quality songs.
Calling iPod the "gold standard" of portable music players and the addition of iTunes "the only complete solution for digital music," Apple chief executive Steve Jobs said that legally selling 10 million downloadable songs in four months is a historic milestone for the music industry.
GartnerG2 research director Mike McGuire told TechNewsWorld that, as the service has matured and developed, iTunes has become "almost as good as what exists now" from unlicensed song-swapping services, which were used by an estimated 60 million people last year.
Windows Shopping
IDC's Promisel said Apple is balancing innovation for its small, loyal market with attempts to bring in PC users. These attempts include an iPod for Windows and the addition of USB 2.0 in the iMac update.
"They're leading in innovation, but they're also making a greater effort to reach out to Wintel customers," Promisel said. "They'll continue to innovate, except their target market is still a small subsegment of the total computer market."
He noted that despite a growing delta between Apple's prices and those of competing Windows-based PCs, the company's user base continues to show a willingness to pay higher prices for Apple products.
Media Center Competition
While he praised Apple's innovation and product integration, Yankee's Kelleher pointed out the weakness of the company's market share and questioned whether it is seeking new customers.
"They seem to be more focused on customer retention than on customer acquisition," he said. "I don't see them doing very much in getting new customers because price reigns supreme."
Kelleher also indicated that with media PCs coming from the likes of Dell, Apple might see more competition for its own customers.
"A lot of manufacturers are moving to the digital experience with a media center," he said. "It's going to be carried at a better price point, and it's going to have the same applications."