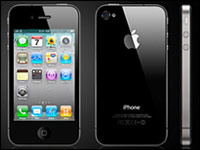 The U.S. Army wants to start issuing smartphones as part of each solder's basic equipment, the Army Times reported on Sunday. It plans to begin fielding smartphones, network equipment and applications in February to the first Army brigade under a combat team modernization program. In addition to smartphones, the Army will be testing other electronic devices that may be useful to troops.
The Army reportedly plans to roll out wireless Common Access Card readers for the iPhone in January and for Android phones in April, according to the report. The goal is to give solders secure access to their email, contacts and calendars.
Smartphones Go to War
In a war zone, smartphones would allow soldiers to view real-time intelligence and video from unmanned systems overhead, the Army Times article notes. Soldiers would also be able to track friends and enemies on a dynamic map. Before the devices are ready for war duty, the Army plans to work through securing the data and the network.
The Army's fielding plan includes fitting commercial phones into antenna sleeves and linking them to the network via a patchwork of ground stations and airborne nodes, according to the paper.
The Army also reportedly plans to provide phone service and a monthly budget for apps. The Army is exploring the idea of creating a portal with apps that are sanctioned and secure. Some apps will be optional, while others will be categorized "must-load."
In tests, the Army found soldiers with smartphones were more likely to collect and share data, reported the Army Times. The sharing included texting as well as taking pictures on patrol and sending them back to command.
The Army did not respond to TechNewsWorld's request for comments by press time.
The New Computer
In recent years, the Army has turned laptops into wearable computers. The smartphone will likely become a more convenient replacement.
"These smartphone devices are almost as powerful as laptops were a couple years ago," Chris Hazelton, research director for mobile and wireless at the 451 Group, told TechNewsWorld. "If my computer needs are mapping, text messaging, email or specific custom applications, smartphones do well with that right off the shelf. They have GPS, multitasking and network capabilities. This Army program highlights the overall trend of smartphones evolving so rapidly, they will replace desktops in many government settings."
The harsh environment of a war zone could present challenges to the reliability of standard smartphones. Many smartphone vendors, however, are positioned to make adjustments.
"The smartphone vendors are very familiar with rugged needs. Symbol is focused on ruggedized devices, and they're owned by Motorola," said Hazelton. "The ruggedized versions of smartphones are devices that can be dropped from several feet. They're waterproof, windproof, dustproof. There are standards in place for different uses of the devices. If you have explosives and combustibles, you need to have a device that won't cause sparks."
Securing War Zone Communications
The Army is exploring ways to keep the network from getting jammed or shut down by the enemy in a war zone.
"Typically, in the field, this always presents a problem, because an enemy could easily knock out communications by destroying a cell tower," Allen Nogee, principal analyst for wireless technology at In-Stat, told TechNewsWorld. "The solution to this is a mesh network where each soldier in the field is a potential base station to another soldier."
The Army will also have to keep the phones from revealing the soldier's location.
"Is there a means for keeping each phone user from being a homing device for a bomb?" wondered Nogee.
"A cell phone, like any other transmitter, is basically a device which broadcasts 'I am here.' That might not be something you'd like the enemy to know. Usually a mesh network can help here also," he explained, "because transmitter power can be lower, as you only need to communicate to the nearest other person rather than a cell tower."