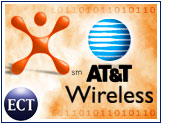 Even before the ink has dried on the US$47 billion merger of Cingular and AT&T Wireless, the cellular company spun off by AT&T in 2001, AT&T has announced a new deal with Sprint to provide AT&T-branded voice and data services to AT&T's 30 million customers over Sprint's wireless networks.
The five-year deal is AT&T's first step in reentering the wireless market. It will allow AT&T to expand the wireless services it is testing in the United States, the company said, noting that it hopes to launch the services later this year.
"AT&T has proved it is capable of rolling out bundles of new and complex services quickly and cost-effectively, with top-notch customer service, and we are excited to have this important capability that will help us better serve customers," said AT&T chairman and CEO David Dorman in a statement.
Gartner research vice president Phil Redman said that although AT&T was expected to reenter the wireless market through some kind of bundling strategy, the announcement's timing is somewhat surprising, given that the Cingular-AT&T Wireless deal is not yet complete.
"There's no reason to go early with an announcement because they can't offer anything yet," Redman told TechNewsWorld.
Planning Ahead
Yankee Group program manager Roger Entner, however, said the deal is evidence that AT&T is looking ahead to when Cingular officially will own its wireless moniker, AT&T Wireless.
"It shows that they're prepared," Entner told TechNewsWorld. "Better they are doing it now rather than all of a sudden in November realizing that the AT&T Wireless name could be going away."
Entner said that while the Cingular-AT&T Wireless deal must be consummated before AT&T can proceed — likely at the end of this year — the company is trying to leverage the customer base of its former asset to remain viable in wireless.
"I think they will go aggressively after the AT&T Wireless customers," he said.
Consumers and Confusion
Gartner's Redman said the AT&T-Sprint agreement, which comes after AT&T's entry into the Voice over Internet Protocol (VoIP) scene, is aimed mainly at consumers.
He noted that Sprint was an obvious choice for AT&T because Sprint already has reseller relationships with other players, such as Qwest and Virgin.
The analyst added that AT&T might be able to take advantage of confusion in the marketplace to win over its former AT&T Wireless customers, but more is needed for a successful, longer-term strategy.
Virtual Operator Value
AT&T said it will offer its wireless services as a "mobile virtual network operator," or MVNO. Redman said the MVNO strategy feeds off of brand, which could both help and hurt AT&T.
"The question is, 'Does the AT&T name still carry enough weight?'" Redman said. "I think the opportunity is there, but over the last two years or so, they've seen a challenge. The brand doesn't have the cachet it did five years ago."
For his part, Entner praised the MVNO model and said its worth is increasing with the emergence of different submarkets and levels of service for wireless users.
"It's a very valuable market, especially with microsegmentation," he said. "This really helps that because not every wireless carrier can be everything for everyone."