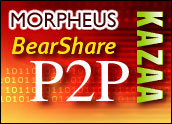 In a move reminiscent of government tactics used against drug dealers and organized crime, an Australian group working on behalf of the recording industry there raided offices and homes belonging to executives of the Kazaa peer-to-peer (P2P) network operator, Sharman Networks.
Using a search order secured from an Australian federal court, the Australian record industry's Music Industry Piracy Investigations (MIPI) unit served the order at Sharman's Sydney offices and executive homes, indicating its intentions to take legal action against the company.
The move, among the most aggressive of the recording industry's efforts to quash the trading of copyrighted music online, is likely to earn the industry even more anger from consumers who already have witnessed the industry bring lawsuits against individual computer users accused of illegally sharing music through services such as Sharman's Kazaa network.
---
EDITOR'S NOTE (February 6, 2004):
See our exclusive interview with Phil Morle, the CTO of Sharman Networks — "
Beyond File Sharing
" — for a discussion of the future of file sharing.
---
"It's a pretty aggressive tactic to start searching individuals' homes," Yankee Group senior analyst Mike Goodman told TechNewsWorld. "They have a really good chance of shooting themselves in the foot again."
Hitting Home
There were reports that Australian universities and technology companies Akamai, NTT and Telstra were also searched in the MIPI action, but those reports could not be confirmed.
Akamai spokesperson Jeff Young told TechNewsWorld that his company's Australia offices were not raided as indicated in some reports.
However, the Australia Record Industry Association's (ARIA) antipiracy unit did execute the search-and-seize orders at the private residences of two Sharman Networks executives, the P2P company said.
"Sharman will be applying to have these orders set aside, but in the meantime is complying with the terms of the order," Sharman said in a statement.
Crashing the Free Ride
ARIA chief executive officer Stephen Peach said in a statement that the organization supports the recording industry's move to "stop the illegal behavior of file-sharing networks."
"The 'free ride' simply can't continue indefinitely at the expense of the owners and creators of the music," Peach said in a statement. "I firmly believe that most Australians understand and accept that it is illegal and unfair to copy other people's work without permission."
The Recording Industry Association of America, which has continued its campaign to sue individual file traders accused of trafficking copyrighted music, said the measures taken in Australia "should come as little surprise given the global nature of music piracy."
"Its impact on artists, songwriters, record labels and everyone else who works to bring music to the public is felt internationally just as it is here in the United States," the RIAA said in a statement.
Wasteful and Worn Out
In response to the action in Australia, Sharman claimed the effort was a waste of time, money and resources going over legal ground that has already been covered in U.S. and Dutch courts in the last 18 months.
The P2P company — which contends it bought Kazaa two years ago intending to build it into a legitimate channel for distributing licensed, copyright-protected music — said its model already has proven to be successful.
"This is a knee-jerk reaction by the recording industry to discredit Sharman Networks and the Kazaa software, following a number of recent court decisions around the world that have ruled against the entertainment industry's agenda to stamp out peer-to-peer technology," Sharman's statement said. "There is no doubt this is a cynical attempt by the industry to disrupt our business, regain lost momentum and garner publicity."
Sharman, which has prevailed in recent court cases in the United States and Europe, said the recording industry's assertions are "hackneyed and worn out," adding that it is a misrepresentation to suggest Sharman facilitates or encourages copyright infringement.
Losing Cases and Cachet
Yankee Group music and P2P analyst Goodman, who said he doubts the recording industry will find anything through the Australia raids, added that the industry is looking for some kind of success after losing a series of court decisions.
"Bottom line, the recording industry needs a victory somewhere," Goodman said. "They keep getting told the P2Ps are legal. They're starting to lose court cases, and they needed something to hang their hat on."
However, Goodman said the Australia action is likely to backfire on the industry as it reinforces ill will toward record labels.
"I don't think there's really any good way they can spin this," he said.