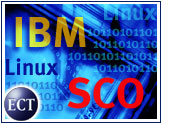 IBM has added to the legal mix in its fight over source code claims by Lindon, Utah-based SCO Group, with a counterclaim against the smaller software company filed in court Thursday.
IBM's complaint refutes SCO's arguments about solicitation of Linux licenses and returns the legal favor by claiming SCO's commercially available software has directly infringed four IBM patents.
"Simply put, SCO's scheme is an attempt to profit from its limited rights to a very old Unix operating system … by introducing fear, uncertainty and doubt into the marketplace," an IBM statement said.
Analysts anticipate legal maneuvering and sabre rattling in the legal fight, which began when SCO sued IBM for US$1 billion in March, claiming Big Blue wrongfully ported parts of SCO's Unix System V source code to Linux.
"It's certainly messy," Yankee Group senior analyst Dana Gardner told TechNewsWorld. "It's down to the 'he said she said,' with a lot of big numbers being thrown around and very capable, high-profile lawyers involved."
IBM's Counterclaim
IBM claims SCO's case has no merit or supporting facts. The company is countersuing SCO for several issues: violation of the Linux General Public License (GPL); improper claims to revoke IBM's Unix license; and infringement of IBM patents relating to SCO's UnixWare, Open Server, SCO Manager and Reliant clustering software products.
Big Blue is seeking compensatory and punitive damages and an injunction requiring SCO to refrain from "misrepresenting its rights" and to cease further infringement of IBM's patents, according to the claim.
In addition to IBM's counterclaim, Linux vendor Red Hat this week filed suit against SCO, claiming its open-source software does not infringe on SCO patents and calling for SCO to stop making "untrue" statements.
Lawsuit-Based License
IBM's counterclaim comes just two days after SCO released its licensing plan for commercial Linux users. SCO is selling the intellectual property licenses for enterprise use of Linux 2.4 kernels and later.
SCO spokesperson Blake Stowell told TechNewsWorld that some of the 1,500 Linux users contacted in May about the need for the licenses were on board with the program. He said SCO is offering an introductory license price of US$699 per CPU until October 15th, when the price per CPU will jump to $1,399.
"A lot of people are re-engaging, and we're talking to them about taking out a license," Stowell said.
Watching and Waiting
Yankee's Gardner said the license debate and the legal battle, with a court date in 2005, have the attention of the industry, which also is watching how Linux is progressing deeper into enterprise computing.
"In the meantime, users get to sit back and watch," Gardner said. "It's probably that mood of the watchful audience that's important over the next couple of years."
He said SCO's claims have heightened awareness of indemnity and intellectual property issues related to software, adding that IT purchasers who have not yet made a choice about Linux now will consider its potential liability.
Retaining Value
Despite the liability issues that have come out of the SCO suit, Gardner said all vendors still should move ahead on Linux, which IBM this week indicated it is doing.
"Even if the economic issues and complex legal back and forth results in added cost, [Linux] is still probably going to be a very economical and pertinent technology," he noted.
Calling IBM's Linux strategy "masterful," Gardner said he sees no reason why it should change.
Code Goes to Court
He added that although software has been somewhat insulated from the litigation over intellectual property that has occurred in other industries, it now appears that code is going to court.
"Lawyers tend to be deployed in small armies when there is economic incentive to do so," he said. "Now that's coming together in software."
Gardner said the SCO issues have highlighted a lack of focus on indemnity across different software platforms.
"It's been overlooked in general, not just in Linux but across the board," he said.