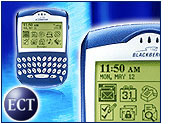 The U.S. Court of Appeals is set to rule on whether the communications company Research In Motion (RIM) will have to stop selling its BlackBerry e-mail device. The dispute is over who owns the patent for technology used in the bestselling gadget.
The Canadian company was sued by technology patent company NTP for patent violation and wants US$53.7 million in damages as well as an injunction barring the sale of the BlackBerry device in the Unites States.
The injunction was stayed and passed on to the appeals court, which will hear oral testimony starting today. RIM has been challenging eight patents held by NTP. The patents cover the disputed technology.
NTP does not actually use the technology to produce any product, and was dealt a blow when the U.S. government ordered BlackBerrys for its staff in the wake of the September 11, 2001, terrorist attacks. BlackBerry users found its service clear, while mobile phone services were blocked during the crisis.