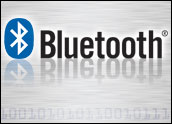 Industry insiders think it's going to be a big holiday season for Bluetooth wireless technology — which is showing up in a wide range of gadgets, from mobile phones to audio players to personal digital assistants to personal computer keyboards and even cars.
Christophe Dissaux, executive vice president at Paris-based Parrot S.A., said Bluetooth — a short-range wireless technology that allows devices to communicate with each other without wires — has finally taken off. He said he expects this holiday season to be bigger for Bluetooth than last year and he expects next year should be even bigger.
Growing by Leaps and Bounds
"Parrot has doubled in growth since last year and has seen similar growth patterns for the past four years," Dissaux said. "Eighteen months ago people knew the word Bluetooth. Today people understand what Bluetooth is about."
Parrot develops and manufactures Bluetooth products to be used in vehicles. Since it developed its first hands-free mobile phone car-kit in 2001, it has delivered more than one million worldwide.
Dave Steer, director of segment marketing for UK-based ARM Ltd., also said Bluetooth awareness is beginning to take off. "I'm not sure my Grandma will ever understand exactly what Bluetooth is, but the work is being associated now with more than simply headsets, and we're beginning to see it linked more closely with things you can link to your phone."
ARM designs the technology behind advanced digital products, including microprocessors, embedded memories and software and development tools. Steer estimated that over 60 percent of Bluetooth devices are ARM powered.
Additional Opportunities
"It's not likely to be a Bluetooth feeding frenzy out there, but it is an important time for the Bluetooth industry." Steer said. "The mass-market adoption of Bluetooth has arguably been stifled by a chicken-and-egg situation where low- to mid-end phones were not Bluetooth equipped, because of the lack of intelligent accessories. This is now changing and may well cause a growth in the general Bluetooth market."
Rob Hoeben, product marketing manager for the Bluetooth product line at Philips Semiconductors — a division of the electronics-giant Koninklijke Philips Electronics NV based in The Netherlands — said Bluetooth has penetrated enough electronic devices to gain the attention of consumers. "Consumers see the added value," Hoeben said.
"The penetration rate of Bluetooth continues to climb resulting in Bluetooth being integrated into more and more electronic devices," Hoeben said.
Mobile handsets are the overwhelming driver for Bluetooth, according to technology researcher In-Stat. It reported that handsets represent over two-thirds of Bluetooth-enabled products shipped in 2004. "As Bluetooth has become established in mobile phones, it has a positive effect on other devices integrating Bluetooth, including headsets, PDAs, PCs, and even automobiles," according to a report by the researcher.
Mike Foley, executive director of the industry sponsored Bluetooth Special Interest Group in Bellevue Wash., said there is an installed base of over 500 million Bluetooth devices and new units are shipping at over five million units a week.
"Part of the reason for the abundance of products is due to the availability of new tools to help companies bring Bluetooth products to market faster by simplifying qualification, the process that manufacturers of Bluetooth devices undergo to certify their products," Foley said. He said his group has recently developed new tools as part of an updated qualification program that aims to assure better interoperability, verify conformance to the Bluetooth specifications, and strengthen compliance.
New Products Popping Up
Sony Ericsson, a 50/50 joint venture between Sony and Ericsson, is releasing new products with Bluetooth technology. "Sony Ericsson is shipping two new Bluetooth enabled handsets, the Z520 and W600 Walkman phone for the holidays. We also have recently announced several new Bluetooth headsets," said Cherie Gary, vice president of corporate communications at Sony Ericsson in Research Triangle, N.C.
Another new gadget to hit the market is the ElexTex fabric keyboard for smart phones and handheld computers made by UK-based Eleksen Ltd. It produces a five-layer conductive laminate that transforms fabric into electrically conductive materials.
"As the accessory market has grown, the need to reduce wires has created demand for this cable free technology," said Andrew Newman, product manager at Eleksen.
With the demand for Bluetooth products growing, Taiwan-based Mobile Action Technology reports that it has seen more demand for its mobile management software. "We have seen a 50 percent increase in sales of our own Handset Manager Bluetooth Data Suite for the first three-quarters of 2005," said Fitzwilliam Yang, product manager of Mobile Action Technology. "We see a growing trend to adopt Bluetooth products."
But not everyone is convinced that this will translate into big holiday sales. "Bluetooth has taken off as a cell phone technology primarily for headsets, most of the other products [keyboards, mice, wireless telephones] haven't done particularly well or failed outright," said Rob Enderle, principal analyst at the Enderle Group in San Jose, Calif. Enderle said Bluetooth is still trying to find a sustained broad use.
"Headsets and car cell phone kits have not been identified as a good gift item. I'm not seeing a ramp up in demand for these devices as gifts," Enderle said.