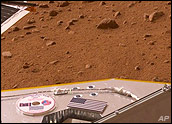 A new discovery made on Mars throws a curve ball at the question of whether life ever existed on the Red Planet. NASA's Phoenix Lander has uncovered a harshly reactive salt called "perchlorate" in soil samples taken from the ground.
The finding stands in stark contrast to the original belief that Mars's soil was in many ways similar to Earth's and could support a variety of life. NASA's principal investigator for Phoenix calls the find "surprising" but emphasizes that the analysis is not yet complete.
Finding the Source
Early samples taken by Phoenix found no traces of perchlorate, which has raised questions of whether the new measurement is accurate. Scientists are looking to see if the substance could have come from the spacecraft itself or another external source.
One reason for suspicion: Perchlorate — which is derived from perchloric acid — is most commonly used as the primary ingredient in solid rocket fuel. Both natural and man-made on Earth, it's also found in everything from fireworks and explosives to airbags and fertilizers. It is considered an increasingly common contaminant in our soil and groundwater and can pose a serious threat to human health, interfering with thyroid functioning such as adult hormone release and child development.
A Changed Equation
The chemical's existence on Mars, if confirmed, would definitely change the equation. It may not, however, eliminate the possibility of life.
"Martian soil was sort of looking really familiar and down to earth," Adler Planetarium Director of Astronomy Geza Gyuk told TechNewsWorld. "This sort of puts a little parenthesis, saying 'wait a second, not so fast.' It really is a pretty alien soil," he said.
Perchlorate is not the most reactive of its oxide family, Gyuk explained, and certain forms of life could theoretically resist it.
"I'd certainly say it's not the end of the line. It makes it a little more challenging for life," Gyuk said.
"Any oxidizer is sort of bad news," he continued. "But then again, oxygen is an oxidizer — and, in fact, oxygen is a toxin to a lot of organisms. We first got oxygen in our own atmosphere as a waste product of bacteria and plants. Once it built up to a really decently high level, creatures just evolved to deal with it."
Interpreting the Results
The fact that the various samples showed different results could indicate any number of things, from cross-contamination to error — or just simple variation across the planet's ground.
"Maybe only the top layers have [the substance], or certain layers," Gyuk speculated. "Usually you get preliminary results, and sometimes, there's a change. I wouldn't say that it's surprising," he concluded.
NASA's Phoenix mission will continue through the end of September. The space agency extended it five weeks from its original duration.