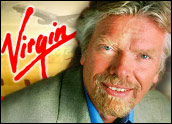 To outsiders, it may often seem that video gamers live in a world of their own. That perception will soon come closer to reality following the announcement Monday that Richard Branson's Virgin Games division has partnered with Game Domain International (GDI) to form a new PC game download service, "A World Of My Own" (AWOMO).
The service, set to debut in the second half of 2007, will offer gamers access to a variety of streamed games over a high speed delivery service, the companies said. Set within a virtual 3-D world, the AWOMO platform, according to Virgin and GDI, "aims to replicate the functionality of iTunes, making it quicker and cheaper for gamers to download their favorite games." AWOMO will initially charge gamers on a pay-per-game-play basis or on a subscription.
"This is a really exciting development for us, as it gives us the opportunity to do for PC games what iTunes has done for music," Sir Richard Branson, chairman of Virgin, said. "The GDI technology will revolutionize how the mass market will play games and will give them more choice for less money."
It's a Gamers' World
The PC game market, with US$970 million in revenues in 2006, at times seems to be the ugly stepsister to the console game industry, which generated record breaking revenues of $12.5 billion in 2006, according to the NPD Group. However, GDI and Virgin believe that AWOMO will "significantly accelerate the growth of the total games market — already valued at $25 billion."
Beleaguered by high distribution costs and piracy, the PC game industry has suffered a 44 percent decrease in sales since its all-time high of $1.1 billion in 1999. AWOMO will remove some of the stress the industry has labored under by providing its users with rapid download speeds, increased security and an easy-to-use interface, the companies said.
Security is a major problem for the PC game industry, Michael Cai, an analyst at Parks Associates, told TechNewsWorld. Many PC games are trafficked on peer-to-peer networks. An online service with strong copyright protections would help to remedy the problem.
"There's a reason why you cannot rent PC games from Blockbuster — gamers can copy those games onto their PCs," Cai explained. "Digital distribution of video games, combined with the right DRM technology, can help lessen this issue."
Same Service, Different Provider
AWOMO enters a market packed with major players. Several companies already offer their own online game services such as Extent Technologies, IGN Direct2Drive, Valve's Steam Engine and Real Networks Arcade. Digital distribution companies include Wild Tangent, MSN, Yahoo, Big Fish, AOL and others. On the surface, the new service does not seem to bring anything new to the digital distribution, according to Cai.
"Based on its claim of being the iTunes [of gaming], I assume it will focus on user interface design and perhaps support for portable gaming platforms," Cai suggested. "However, no one knows all the details at this point. This is just another big firm jumping into the gaming space."
One thing in AWOMO's favor, however, is its aim to host tournaments and award prizes. Those are great incentives for gamers to play online games, he noted.
As another player joins the digital download bandwagon, will CD-ROM-based games eventually become a nifty relic of the old gaming days? Retail PC games, Cai replied, have been falling year over year. Digital distribution of PC games is definitely growing rapidly, but the transition will be a long process.
"Publishers still want the marketing visibility at retail and they want to play it safe with the big retailers," he continued. "Plus, not everyone has broadband, yet."