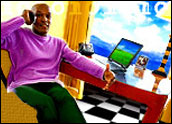 A struggle is taking place between frequent business travelers and hotels over high-speed Internet access, with guests demanding free access and hotels trying to recoup their costs.
Hotels generally do not employ full-time IT staff, choosing instead to outsource the task of connecting and supporting hundreds of guest rooms with around-the-clock, high-speed Internet access that's robust enough to service conferences, meetings and crunch times. Hotels generally charge between US$10 to $20 a night for speeds that are usually equivalent to a T1 line.
Savvy Set
The charges don't sit well with guests, said David Lee, CEO of XoomCRM, a vendor of customer relationship management software. Lee, who travels about two weeks out of every month for business, feels that at this point high-speed Internet access is an amenity, similar to free coffee in the room. While hotel stays are expensible, Lee feels so strongly about it he said it would influence where he stays.
Research has shown he's not alone. "The number one item that frequent business travelers are telling us would impact their hotel purchase decisions is free Internet access in their rooms," said Diane Clarkson, travel industry analyst at JupiterResearch. That conclusion came from an executive survey of 300 people who travel more than 10 times a year. Fifty-seven percent of business travelers said it would influence what hotel they choose.
"It's very much a principle thing," Clarkson said. "These are smart, savvy business travelers who understand the margins and resent being charged $10 to $20 for Internet access," she said.
The survey asked which items would most likely motivate their hotel purchase decision, and free Internet access beat out everything else, including free breakfast, room upgrades and personalized rooms.
One of the reasons hotels are charging for high-speed Internet access is because they are paying for the services that support the network. The hospitality industry is increasingly turning to firms such as iBAHN and GuestTek for managed broadband services and call center support.
Allocating Resources
There was a fourfold increase in traffic in hotel networks from 2003 to 2005, said Brett Molen, CEO and co-founder of iBAHN, which creates QOS managed networks for the hospitality industry. iBAHN has found that one of the most important aspects of running IP networks for the hospitality industry is allocating the bandwidth. "The key is managing the bandwidth-intensive applications that are out there today," Molen said.
With guests increasingly using video, voice, games and online collaboration tools, networks are struggling to keep up with bandwidth demands. "That's the big issue that's facing the hotel industry, how do you give the users what they're looking for," he said.
Hutch El-Assaad, systems analyst at The Ritz-Carlton in Dearborn, Mich., said he's seeing a steady increase in traffic, as well as a rise in the number of guests who are using the Internet in their rooms. El-Assaad finds that the amount of time people spend online varies, with most spending between two to six hours online a day.
Unlike most businesses, there is no downtime in the hotel industry. They're 24/7 operations, with guests expecting instant connections from their high-speed Internet access 24 hours a day.
The Dearborn Ritz-Carlton employs dual T1 lines and relies on GuestTek for its managed services, which includes 24/7 technical support. The hotel provides high-speed Internet access in all areas of the hotel, including guest rooms, function areas and public spaces. El-Assaad estimates that the usage tops out at about 80 users online at once, depending upon the occupancy of the hotel, which has 308 guest rooms. The hotel charges $9.95 per night for high-speed Internet access.
Demanding Clients
Since many people resent having to pay for Internet access, they demand a lot for their money, and downtime is not tolerated. That makes it imperative that companies such as iBAHN set up their networks so that they come as close to that ideal as possible.
iBAHN's solution consists of managed traffic with priority shaping from the property LAN (Local Area Network) to a WAN (Wide Area Network) that runs over an MPLS (Multiprotocol Label Switching) network to one of iBAHN's POPs (Point Of Presence), directly on the Internet backbone, partnering with Verizon Business. iBAHN's owned and managed network includes a 10.x.x.x private addressing scheme between all locations and its POPs which results in a secure managed network with prioritized end-to-end traffic.
Meanwhile, business travelers said that things are looking up. XoomCRM's Lee said he hasn't had any connection problems at hotels this year; even when he was "in the middle of nowhere," the connection speed was good. That's a change from the recent past, where at times, "it was almost as bad as dial-up," he said.