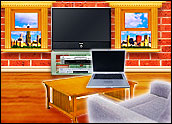 Fox is tapping its sister social networking site MySpace as an outlet for free downloads of some of its fall prime time series, including "Bones," "Prison Break," "Standoff" and "Vanished," when the shows are pre-empted by Major League Baseball games and the World Series on the network this fall.
The new initiative is called Fox on Demand and is designed to keep viewers interested in Fox series even while they won't be able to view them on the air. Only previously aired episodes will be offered.
Initial sponsors include Toyota, Burger King and Lions Gate Entertainment. A variety of Fox shows will also be available for download on some of Fox's affiliate Web sites.
Outlet Options
Fox is not the first television network to use the Web as an outlet for television programming. Apple's iTunes sells a variety of television network programming through partnerships with networks such as ABC. Increasingly, however, television networks have turned to ad-based revenue models and sought to establish broadband outlets of their own for original content.
Fox's strategy is to find the people who are bored with television and give them a choice, according to Dr. Joe Pilotta, vice president of research at BIG Research, a media research firm. "We find out that most people who are online anyway usually have the TV set on and most people who have the TV set on are online," he said.
Putting the shows on MySpace will attract attention, and people "may download it just because it's there and it's free," he said.
A Bigger Bandwagon
Meanwhile, several major Web portals and network-branded sites have plans to offer downloadable content as well.
Yahoo TV will make available Showtime series such as "Weeds," "Sleeper Cell," "The L Word" and "Dexter." Yahoo and the NFL have also partnered to offer live Webcasts of nearly every NFL game outside the U.S. at a cost of $24.99 per week.
In May, CBS launched its own broadband video site, called innertube. The site will offer original programming of its own plus free reruns of CBS programming, including "CSI," "Jericho," "NCIS," "NUMB3RS" and "Survivor." The shows are supported by commercials.
In addition, ABC announced last month that "Lost," "Desperate Housewives," "Grey's Anatomy," "Six Degrees," "Ugly Betty," "The Knights of Prosperity" and "The Nine" are available for download the day after broadcast at ABC.com.