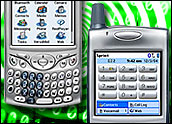 A UK-based firm,Remote XT, on Monday launched a new service in Britain that is designed to help lower the alarming rise in cellular phone thefts. When a phone is stolen, the handset emits a loud, piercing sound, the phone's data is cleared, and it displays a message that reads, "This phone is stolen."
The product, also called "Remote XT," is activated by a call to the phone from the service center after it is stolen. The wailing noise, which is said to be loud enough to disturb a restaurant full of people, can only be stopped by taking out the battery; it starts again when the battery is replaced. The customer's data can be restored to a new phone.
Previous anti-theft devices were able to lock the handset, but not wipe or restore the data.
There's a Better Way?
Currently, the software will work only on high-end smart phones. The company is targeting business users who typically have confidential data, such as e-mail, on their phones. However, the technology is expected to become available on more phones in the next few years.
David Lee, CEO of XoomCRM, told TechNewsWorld he would subscribe to such a service, especially because of Remote XT's capability to restore lost data. "When you lose a phone, it's not the phone price — it's all the contact information," he said.
Lee uses a BlackBerry at work and currently subscribes to DataPilot to back up his data. DataPilot offers software to back up cell phone data over the Web, to your PC or from phone to phone via cable.
He uses the service to back up and store contact information when he changes phones, instead of typing data into the new handset, as many people do. "Imagine typing in 50 phone numbers," he said.
Deactivates, Restores, Yells
Mobile phone thefts have risen 190 percent in recent years in the UK, according to government statistics, with one-third of all robberies involving mobile phones. A mobile handset is stolen every 12 seconds in Britain, costing UK consumers about US$736 million annually, according to Insurer Halifax.
Previously, a signal could be sent to a stolen handset to deactivate it, rendering it useless. Verizon and other carriers — and firms such as DataPilot — offer backup and restore solutions for cell phones.
Remote XT is the first company to combine the two services.
The Remote XT software can also be used to scan for viruses. The service costs about $19 a month and includes daily remote backup. It's currently available only in the UK.