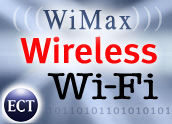 Broadcom has rolled out a new line of local area network (LAN) chipsets that it says can increase the range of existing WiFi networks by as much as 50 percent in both office and home settings.
Broadcom said its Broadrange 54g chipsets rely on advanced signal processing technology to boost the range from which wireless-enabled computers can access a network. The company rolled out both a single-chip 802.11g client solution for mobile computers and a system-on-a-chip for routers.
Broadcom said its new chips would operate at the highest transmission rate possible for a longer time than currently available chips, which are quicker to shift to lower data rates in order to maintain clear transmissions.
It said the chips would improve performance whether used on the client side only or in the router portion of a network, which sets it apart from other higher-performing WiFi offerings, such as those from Atheros, which relies on having the same chips at both ends of the connection.
Having faster and wider-range WiFi broadband could help the already widespread technology become ubiquitous and expand the use of wireless PCs, cell phones and other hand-held devices to access networks and the Internet.
Playing the Standards
The Broadcom approach avoids clashing with standards groups that have urged vendors to hold off on rolling out next-generation WiFi technology. Some vendors have already started pushing products said to be compliant with 802.11.n pre-standards, something that the oversight groups say could mislead consumers and cause the growth of wireless networks to slow over time.
It also doesn't require locking into a proprietary environment in order to gain the higher speeds, as other higher-performance options do, Linley Group senior analyst Bob Wheeler said.
He said the Broadcom rollout represented the first major upgrade of WiFi ranges that didn't also come with a string attached in the form of being required to upgrade to proprietary chips on both ends of the wireless connection in order to achieve the higher speeds.
The result is a much more cost-effective option, he said, because existing networks can be upgraded without being replaced in their entirety. "We recommend standards-based range enhancements over proprietary approaches because they improve the user experience for both new and existing networks," he said.
Waiting for Bullet Train
Though some forms of WiFi — most notably public "hotspots" that offer paid or free Web access at coffee shops and the like — have had starts and stops along the way, the technology has been embraced by home users who gain the ability to use multiple computers on a single high-speed Internet access line and businesses, which can network computers together more easily.
Still, some buyers might be reluctant to invest in existing WiFi setups because standards and technology are evolving rapidly. For instance, 802.11.n is expected to have formal standards in place sometime next year or early in 2006, likely leading to a deluge of products in that format.
While standards bodies push for backwards-compatibility in newer formats, many buyers still fear being stuck with yesterday's technology as soon as they purchase it, Yankee Group analyst Roberta Wiggins said. WiFi's limitations are often enough to give pause to those considering investing in small-scale wireless networks.
"There are always going to be those consumers who would rather wait before jumping into an emerging technology," Wiggins said. "Picking up the speeds is one thing that the industry can do to improve uptake."