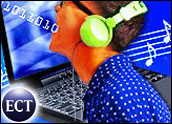 A new legal music download service for PCs has been unveiled, boasting the largest legitimate online catalog of songs to date, but BuyMusic.com still might be hampered because it lacks the freedom offered by free file-sharing networks, experts said.
Aliso Viejo, California-based BuyMusic.com will sell tracks from its growing list of 300,000 songs starting at 79 cents each, with albums selling for US$7.95, the company announced at the service's launch.
While the service has the largest legitimate music library and the lowest price of comparable licensed music download sites, such as MusicNow, MusicNet, Rhapsody and Pressplay, BuyMusic.com still limits what users can do with music files once they are downloaded.
That could limit popularity of the new PC download offering and prevent users of free file-sharing services, such as Kazaa and Grokster — which allow downloaders unlimited copying to any device or to CDs – from switching to the legitimate alternative.
Large and Legal
BuyMusic.com founder and CEO Scott Blum said the new site is aimed at turning the music industry "right side up."
Blum claimed that no other site is legally offering the magnitude of tracks that BuyMusic.com will make available. He added that the site has the backing of the recording industry and will deliver music from the top five record labels as well as independent labels.
Still, Yankee Group senior analyst Mike Goodman told TechNewsWorld that the new site's music library does not come close to the millions of tracks – which include live performances, studio versions and remakes – available on the free P2P networks.
Limited License
Despite its large music catalog, lack of monthly subscription fees and option to preview music through 30-second samples, BuyMusic.com limits what downloaders can do with the tracks and albums they purchase through the site.
Users are limited in terms of the number of times they can copy a song and where they can copy it. They must register each device they plan to use for downloading, according to the site's terms. Goodman said such restrictions are likely to limit use of the new site.
"Every hoop you make the consumer jump through lowers your acceptance rate," he said.
Wrong Format
The site will deliver tracks via Microsoft Windows Media. There is no monthly subscription fee, and the site will store purchase information to bill users' credit cards as they make purchases, the company said.
While Blum claimed "the new buzz phrase is no longer MP3 players," referring instead to digital music players, Yankee's Goodman said the contrary is true. He pointed out that MP3 is still the digital format of choice for online music fans.
Goodman added that the recording industry is resisting the use of MP3 in part because of its portability, but also because it has become synonymous with file trading.
Endangered by Endorsement
BuyMusic.com boasted "100 percent" backing from the recording industry, but Goodman said that endorsement might represent a counter-cultural force that could hinder the new site.
"It's certainly not going to be beneficial," he said. "Users are going to say the authority figures endorsed this one."
The site also won the approval and praise of the Recording Industry Association of America (RIAA), which recently came under fire for pursuing legal action against individual users of free P2P applications.
Face-Off With Free
Nielsen//NetRatings senior analyst Greg Bloom told TechNewsWorld that legitimate sites such as MusicNow are still lagging far behind the free P2P networks in terms of user numbers.
"The use of the free services is just infinitely bigger than the use of legitimate, paid download services," Bloom said.
Although Apple has been successful with its iTunes online music store, which sells tracks for 99 cents each, Apple represents only a small subsection of the residential PC market, according to Bloom. BuyMusic.com appears to be a PC version of iTunes — with a lower price — but Bloom said legitimate services are still a long way from competing with free services in terms of use.
"It doesn't appear that people are going to stop using services like Kazaa," he noted.